04.05.2018 | Brief Report | Ausgabe 8/2018 Open Access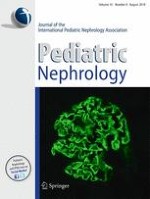 Acquired thrombotic thrombocytopenic purpura with isolated
CFHR3/1

deletion—rapid remission following complement blockade
Zeitschrift:
Autoren:

Martin Bitzan, Rawan M. Hammad, Arnaud Bonnefoy, Watfa Shahwan Al Dhaheri, Catherine Vézina, Georges-Étienne Rivard
Abstract
Background
Thrombotic thrombocytopenic purpura (TTP) is caused by the abundance of uncleaved ultralarge von Willebrand factor multimers (ULvWF) due to acquired (autoantibody-mediated) or congenital vWF protease ADAMTS13 deficiency. Current treatment recommendations include plasma exchange therapy and immunosuppression for the acquired form and (fresh) frozen plasma for congenital TTP.
Case-diagnosis/treatment
A previously healthy, 3-year-old boy presented with acute microangiopathic hemolytic anemia, thrombocytopenia, erythrocyturia and mild proteinuria, but normal renal function, and elevated circulating sC5b-9 levels indicating complement activation. He was diagnosed with atypical hemolytic uremic syndrome and treated with a single dose of eculizumab, followed by prompt resolution of all hematological parameters. However, undetectably low plasma ADAMTS13 activity in the pre-treatment sample, associated with inhibitory ADAMTS13 antibodies, subsequently changed the diagnosis to acquired TTP. vWF protease activity normalized within 15 months without further treatment, and the patient remained in long-term clinical and laboratory remission. Extensive laboratory workup revealed a homozygous deletion of CFHR3/1 negative for anti-CFH antibodies, but no mutations of ADAMTS13, (other) alternative pathway of complement regulators or coagulation factors.
Conclusions
This case, together with a previous report of a boy with congenital TTP (Pecoraro et al. Am J Kidney Dis 66:1067, 2015), strengthens evolving in-vitro and ex-vivo evidence that ULvWF interferes with complement regulation and contributes to the TTP phenotype. Comprehensive, prospective complement studies in patients with TTP may lead to a better pathophysiological understanding and novel treatment approaches for acquired or congenital forms.