01.12.2012 | Original investigation | Ausgabe 1/2012 Open Access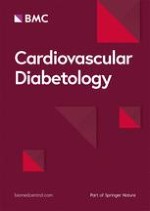 Alterations of specific biomarkers of metabolic pathways in vascular tree from patients with Type 2 diabetes
Zeitschrift:
Autoren:

Bernal-Lopez M Rosa, Llorente-Cortes Vicenta, Gomez-Carrillo Victor, Lopez-Carmona Dolores, Calleja Fernando, Gomez-Huelgas Ricardo, Badimon Lina, Tinahones Francisco J
Wichtige Hinweise
Electronic supplementary material
The online version of this article (doi:
10.​1186/​1475-2840-11-86
) contains supplementary material, which is available to authorized users.
Competing interests
The authors declare that they have no competing interests.
Authors' contributions
MRBL and VLlC conceived the study, designed and performed the experiments and prepared the manuscript. VGC, DLC, FC and RGH collected the biochemical data from the patients. LB and FT oversaw manuscript construction and supervised the experiments. All authors read and approved the final manuscript.
Abstract
The aims of this study were to check whether different biomarkers of inflammatory, apoptotic, immunological or lipid pathways had altered their expression in the occluded popliteal artery (OPA) compared with the internal mammary artery (IMA) and femoral vein (FV) and to examine whether glycemic control influenced the expression of these genes. The study included 20 patients with advanced atherosclerosis and type 2 diabetes mellitus, 15 of whom had peripheral arterial occlusive disease (PAOD), from whom samples of OPA and FV were collected. PAOD patients were classified based on their HbA1c as well (HbA1c ≤ 6.5) or poorly (HbA1c > 6.5) controlled patients. Controls for arteries without atherosclerosis comprised 5 IMA from patients with ischemic cardiomyopathy (ICM). mRNA, protein expression and histological studies were analyzed in IMA, OPA and FV. After analyzing 46 genes, OPA showed higher expression levels than IMA or FV for genes involved in thrombosis (F3), apoptosis (MMP2, MMP9, TIMP1 and TIM3), lipid metabolism (LRP1 and NDUFA), immune response (TLR2) and monocytes adhesion (CD83). Remarkably, MMP-9 expression was lower in OPA from well-controlled patients. In FV from diabetic patients with HbA1c ≤6.5, gene expression levels of BCL2, CDKN1A, COX2, NDUFA and SREBP2 were higher than in FV from those with HbA1c >6.5.
The atherosclerotic process in OPA from diabetic patients was associated with high expression levels of inflammatory, lipid metabolism and apoptotic biomarkers. The degree of glycemic control was associated with gene expression markers of apoptosis, lipid metabolism and antioxidants in FV. However, the effect of glycemic control on pro-atherosclerotic gene expression was very low in arteries with established atherosclerosis.