01.12.2015 | Research article | Ausgabe 1/2015 Open Access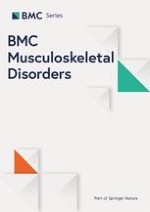 Altered movement patterns and muscular activity during single and double leg squats in individuals with anterior cruciate ligament injury
Zeitschrift:
Autoren:

Anna Trulsson, Michael Miller, Gert-Åke Hansson, Christina Gummesson, Martin Garwicz
Wichtige Hinweise
Electronic supplementary material
The online version of this article (doi:
10.​1186/​s12891-015-0472-y
) contains supplementary material, which is available to authorized users.
Christina Gummesson and Martin Garwicz contributed equally to this work.
Competing interests
The authors declare that they have no competing interests.
Authors' contributions
AT, CG and MG provided the concept, idea and fund procurement, and AT, MM, G-AH, CG and MG provided research design. AT, MM and CG provided the data collection. AT and MG performed the data analysis and the statistical analysis in consultation with Professor Jonas Björk, division of occupational and environmental medicine at Lund University. AT was mainly responsible for the writing, while AT, CG and MG drafted the manuscript and all authors read and approved the final version. AT provided project management and the Department of Health Sciences, Division of Physiotherapy, Lund University provided the equipment.
Abstract
Background
Individuals with Anterior Cruciate Ligament (ACL) injury often show altered movement patterns, suggested to be partly due to impaired sensorimotor control. Here, we therefore aimed to assess muscular activity during movements often used in ACL-rehabilitation and to characterize associations between deviations in muscular activity and specific altered movement patterns, using and further exploring the previously developed Test for substitution Patterns (TSP).
Methods
Sixteen participants (10 women) with unilateral ACL rupture performed Single and Double Leg Squats (SLS; DLS). Altered movement patterns were scored according to TSP, and Surface Electromyography (SEMG) was recorded bilaterally in six hip, thigh and shank muscles. To quantify deviations in muscular activity, SEMG ratios were calculated between homonymous muscles on injured and non-injured sides, and between antagonistic muscles on the same side. Correlations between deviations of injured/non-injured side SEMG ratios and specific altered movement patterns were calculated.
Results
Injured/non-injured ratios were low at transition from knee flexion to extension in quadriceps in SLS, and in quadriceps and hamstrings in DLS. On injured side, the quadriceps/hamstrings ratio prior to the beginning of DLS and end of DLS and SLS, and tibialis/gastrocnemius ratio at end of DLS were lower than on non-injured side. Correlations were found between specific altered movement patterns and deviating muscular activity at transition from knee flexion to extension in SLS, indicating that the more deviating the muscular activity on injured side, the more pronounced the altered movement pattern. "Knee medial to supporting foot" correlated to lower injured/non-injured ratios in gluteus medius (rs = −0.73, p = 0.001), "lateral displacement of hip-pelvis-region" to lower injured/non-injured ratios in quadriceps (rs = −0.54, p = 0.03) and "displacement of trunk" to higher injured/non-injured ratios in gluteus medius (rs = 0.62, p = 0.01).
Conclusions
Deviations in muscular activity between injured and non-injured sides and between antagonistic muscular activity within injured as compared to non-injured sides indicated specific alterations in sensorimotor control of the lower limb in individuals with ACL rupture. Also, correlations between deviating muscular activity and specific altered movement patterns were suggested as indications of altered sensorimotor control. We therefore advocate that quantitative assessments of altered movement patterns should be considered in ACL-rehabilitation.