01.12.2018 | Rapid communication | Ausgabe 1/2018 Open Access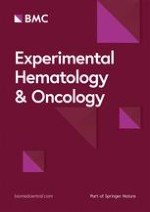 An integrated view of the role of miR-130b/301b miRNA cluster in prostate cancer
Zeitschrift:
Autoren:

Rafael Sebastián Fort, Cecilia Mathó, Carolina Oliveira-Rizzo, Beatriz Garat, José Roberto Sotelo-Silveira, María Ana Duhagon
Wichtige Hinweise
Electronic supplementary material
Abstract
Prostate cancer is a major health problem worldwide due to its high incidence morbidity and mortality. There is currently a need of improved biomarkers, capable to distinguish mild versus aggressive forms of the disease, and thus guide therapeutic decisions. Although miRNAs deregulated in cancer represent exciting candidates as biomarkers, its scientific literature is frequently fragmented in dispersed studies. This problem is aggravated for miRNAs belonging to miRNA gene clusters with shared target genes. The miRNA cluster composed by hsa-mir-130b and hsa-mir-301b precursors was recently involved in prostate cancer pathogenesis, yet different studies assigned it opposite effects on the disease. We sought to elucidate the role of the human miR-130b/301b miRNA cluster in prostate cancer through a comprehensive data analysis of most published clinical cohorts. We interrogated methylomes, transcriptomes and patient clinical data, unifying previous reports and adding original analysis using the largest available cohort (TCGA-PRAD). We found that hsa-miR-130b-3p and hsa-miR-301b-3p are upregulated in neoplastic vs normal prostate tissue, as well as in metastatic vs primary sites. However, this increase in expression is not due to a decrease of the global DNA methylation of the genes in prostate tissues, as the promoter of the gene remains lowly methylated in normal and neoplastic tissue. A comparison of the levels of human miR-130b/301b and all the clinical variables reported for the major available cohorts, yielded positive correlations with malignance, specifically significant for T-stage, residual tumor status and primary therapy outcome. The assessment of the correlations between the hsa-miR-130b-3p and hsa-miR-301b-3p and candidate target genes in clinical samples, supports their repression of tumor suppressor genes in prostate cancer. Altogether, these results favor an oncogenic role of miR-130b/301b cluster in prostate cancer.