14.08.2019 | Original Article | Ausgabe 9/2019 Open Access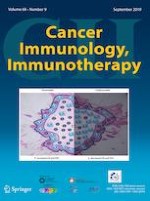 Anti-CAR-engineered T cells for epitope-based elimination of autologous CAR T cells
Zeitschrift:
Autoren:

Stefanie Koristka, Pauline Ziller-Walter, Ralf Bergmann, Claudia Arndt, Anja Feldmann, Alexandra Kegler, Marc Cartellieri, Armin Ehninger, Gerhard Ehninger, Martin Bornhäuser, Michael P. Bachmann
Wichtige Hinweise
Electronic supplementary material
Publisher's Note
Springer Nature remains neutral with regard to jurisdictional claims in published maps and institutional affiliations.
Abbreviations
ADCC
Antibody-dependent cellular cytotoxicity
CDC
Complement-dependent cytotoxicity
EGFP
Enhanced green fluorescent protein
HEK293T
Human embryonic kidney cell line
MFI
Median fluorescence intensity
PSCA
Prostate stem cell antigen
UniCAR
Universal chimeric antigen receptor
V
H
Variable domain of the heavy chain of a monoclonal antibody
V
L
Variable domain of the light chain of a monoclonal antibody
Introduction
Materials and methods
Cell lines and culture
All cell lines were kept at 37 °C in a humidified atmosphere of 5% CO
2
. PC3 cells were stably transduced with the open reading frame (orf) encoding the prostate stem cell antigen (PSCA) as previously reported [
25
]. The murine fibroblast cell line 3T3 and the human embryonic kidney cell line HEK293T were cultured in DMEM (ThermoFisher Scientific, Schwerte, Germany) supplemented with 10% FCS, 100 µg/ml penicillin/streptomycin and 1% non-essential aa. PC3-PSCA and Chinese hamster ovary (CHO) cells were maintained in RPMI 1640 media supplemented with 10% FCS, 100 µg/ml penicillin/streptomycin, 1% non-essential aa, 1 mM sodium pyruvate and 2 mM
N
-acetyl-
l
-alanyl-
l
-glutamine (all purchased from Biochrom, Berlin, Germany).
Generation of CAR vectors
Cloning and structural composition of conventional CARs as well as the universal chimeric antigen receptor (UniCAR) 28/ζ construct have been described previously in detail [
23
,
24
,
26
]. Briefly, they contain an extracellular binding moiety derived from the αPSCA MB1 mAb [
25
], the αCD19 HD37 mAb [
27
] or the αLa 5B9 mAb [
28
] followed by hinge and transmembrane domain of human CD28 and cytoplasmic activation domains of CD28 and CD3ζ. As a targetable moiety, the peptide epitope E7B6 (E-tag) is incorporated in the extracellular spacer region. The Stop variant of the UniCAR lacks intracellular sequences downstream of the CD28 transmembrane domain.
To generate a UniCAR lacking the E-tag, the DNA fragment coding for the extracellular part of the CAR 28/ζ was cut out of the respective vector with
Sfi
I and
Hpa
I. A DNA sequence encoding the scFv 5B9 and hinge region without the E7B6 tag was synthesized by Eurofins Genomics (Ebersberg, Germany) and cloned via
Sfi
I and
Hpa
I into the expression vector p6NST60-CAR 28/ζ, generating the ΔCAR 28/ζ construct.
The novel αE-tag CAR 28/ζ was obtained as follows: first, a fragment encoding the antigen-binding domain was generated by cutting the sequence of the humanized scFv La (7B6)
V
L
–
V
H
out of a pSecTag2B vector with
Nhe
I and
Apa
I. The orf of a fragment containing the hinge, transmembrane and signaling domain of human CD28 as well as human CD3ζ signaling chain was cut out of a cloning vector available in our lab using the restriction enzymes
Mss
I and
Apa
I. Finally, the expression vector p6NST60-MCS was digested with
Xba
I/
Ksp
AI and ligated with the aforementioned two fragments resulting in the vector p6NST60-hu αE-tag CAR 28/ζ.
The Orf of all CAR constructs was C-terminally fused to the DNA sequence coding for enhanced green fluorescent protein (EGFP). To allow for a co-translation of CAR and EGFP from one mRNA, both reading frames are separated by a 2A 'cleavage' site derived from Thosea asigna virus that induces a ribosomal 'skip' from one codon to the next without the formation of a peptide bond [
29
].
Production and purification of αPSCA targeting modules (TMs)
Design, cloning, and purification of αPSCA-E5B9 TM from 3T3 cell culture supernatants was previously described in detail [
25
,
30
]. For redirection of αE-tag CAR T cells, murine or humanized αPSCA scFvs (clone MB1) were C-terminally modified to contain the E7B6 epitope (E-tag). The respective orfs were cloned into the p6NST50 vector which was used to generate a stable CHO cell line for permanent TM production. Purification from cell culture supernatants and analysis of protein concentration were conducted as reported elsewhere [
25
,
30
,
31
].
Isolation, transduction, and expansion of human primary T cells
Buffy coats were supplied by German Red Cross (Dresden, Germany). Human CD3
+
, CD4
+
or CD8
+
T cells were isolated and cultured as described previously [
25
,
28
,
30
,
31
].
Production of lentiviral particles using HEK293T cells and T-cell transduction was conducted as reported elsewhere [
23
,
26
,
32
]. In brief, T cells were stimulated using αCD3/CD28 DynaBeads
®
(Invitrogen, ThermoFisher Scientific) at a 1:4 bead to cell ratio. For T-cell transduction concentrated virus supernatant was added five times within the first 3 days of expansion. After successful genetic modification verified by EGFP expression, cells were sorted on a FACSAria III (BD Biosciences Pharmingen, Heidelberg, Germany). One day prior to experiments, T cells were rested in complete RPMI 1640 lacking any recombinant cytokines.
Flow cytometric analysis
Flow cytometry was carried out on a MACSQuant
®
Analyzer (Miltenyi Biotec, Bergisch Gladbach, Germany) and acquired data were analyzed using MACSQuantify
®
Software (Miltenyi Biotec) or FlowJo 10.1 Software (TreeStar Inc., Ashland, OR USA). Fluorescently labeled mAbs directed against human CD3 (clone BW264/56), CD4 (clone REA623), CD8 (clone REA734), CD69 (clone FN50), granzyme A (GzmA, clone REA162) and granzyme B (GzmB, clone REA226) as well as respective REA isotype controls (clone REA293) were purchased from Miltenyi Biotec. mAbs against human CD107a (clone H4A3) and IgG1 (isotype control, clone MOPC-21) were obtained from BD Biosciences Pharmingen. For the detection of E-tagged CAR constructs on genetically modified T cells, the αE-tag mAb (clone 7B6) and secondary goat anti-mouse IgG F(ab′)2-PE Ab (Beckmann Coulter, Krefeld, Germany) were used [
23
].
After staining of extracellular markers and live vs. dead cell discrimination applying a Zombie Red™ Fixable Viability Kit (BioLegend, London, UK), T cells were processed using an Inside Stain Kit (Miltenyi Biotec) according to the manufacturer's protocol and subsequently labeled for intracellular markers.
Cytotoxicity assays
The elimination of CAR T cells by αE-tag CAR T cells was assessed using a previously established flow cytometry-based assay [
33
,
34
]. To distinguish effector from target cells, the latter were labeled with 10 µM cell proliferation dye eFluor™450 (eBioscience, ThermoFisher Scientific) according to the manufacturer's instructions. The next day, effector cells (αE-tag CAR T cells) were incubated with eFluor™450-stained CAR 28/ζ, ΔCAR 28/ζ or CAR Stop T cells at indicated effector to target cell (
E
:
T
) ratios. After indicated time points, cocultures were carefully resuspended and an aliquot of 25 µl diluted 1:4 with 1 µg/ml propidium iodide (Sigma-Aldrich, Munich, Germany) was measured at a MACSQuant
®
Analyzer. After exclusion of doublets and dead cells, cells/ml were assessed for both effector and target T cells separately. Finally, cells of one triplet were pooled, stained for intracellular expression of GzmA and GzmB, and analyzed by flow cytometry.
The antitumor activity of αE-tag CAR T cells was determined in standard chromium-51 release assays as previously reported [
25
].
T-cell activation and degranulation assay
A total of 5x10 5 eFluor™450-labeled CAR 28/ζ, ΔCAR 28/ζ or CAR Stop T cells was cultured together with equal numbers of αE-tag CAR T cells. Additionally, 5 µl of αCD107a mAb or IgG1 isotype control were pipetted to each well. After 1 h of incubation at 37 °C, 1 µl of 2 mM monensin (Sigma-Aldrich) was added. After 20 h, cells were harvested, stained with αCD69 and αCD3 mAb and measured using a MACSQuant ® Analyzer. Living cells were distinguished from dead cells by being propidium iodide negative.
Cytokine release assay
For analysis of TNF, IFN-γ, GM-CSF and IL-2 concentrations in cell-free culture supernatants (stored at − 80 °C) enzyme-linked immunosorbent assay (ELISA) was conducted using OptEIA™ Human ELISA Kits (BD Biosciences Pharmingen) according to the manufacturer's protocol.
Optical imaging of tumor xenograft mice
Five-week-old male NMRI-Foxn1
nu
/Foxn1
nu
mice were s.c. injected into their right flank with 5 × 10
5
firefly luciferase (Luc)-expressing PC3-PSCA cells (
n
 = 5 per group). Control animals received tumor cells only or tumor cells mixed with either 5 × 10
5
CAR 28/ζ T cells or 15 × 10
5
αE-tag CAR T cells. For induction of anti-tumor activity, 10 µg of E5B9- or E7B6-tagged αPSCA TM was administered in addition to tumor cells and CAR-engrafted T cells. To impair the anti-tumor response, one group of mice was transplanted with PC3-PSCA-Luc cells, 10 µg αPSCA-E5B9 TM, 5 × 10
5
E-tagged CAR target T cells, and 15 × 10
5
αE-tag CAR effector T cells. Animals were anesthetized 6 h, 1 day and 2 days post-cell mixture injection and bioluminescence imaging was conducted as described elsewhere [
26
,
32
]. Optical images were created with Bruker Multispectral software (Bruker, Germany).
Statistical analysis
Statistical significance was evaluated with GraphPad Prism 7 software (GraphPad Software Inc., La Jolla, CA, USA). Statistical tests were used as indicated in figure legends.
p
values of less than 0.05 were considered significant.
Results
Discussion
Here, we report an efficient chance to selectively deplete genetically engineered T cells by autologous αCAR-redirected T cells. For this purpose, we have integrated a specific peptide epitope (E7B6) into the CAR architecture that can be used as an inherent elimination tag. Based on a mAb recognizing this tag, an αE-tag CAR construct was designed and successfully generated. Using flow cytometry-based cytotoxicity assays we demonstrate that T cells equipped with this novel CAR selectively bind and eliminate CAR T cells with an incorporated E-tag whilst CAR T cells lacking this tag are not attacked.
Nevertheless, once tumor-specific CAR T cells are completely wiped out, therapeutic antitumor activity cannot be retrieved. However, our proposed safety approach offers the unique feature of repurposing αCAR-engineered T cells as tumor-fighting UniCAR T cells by administration of an E-tag-comprising TM. Thereby, tumor treatment can be re-initiated on demand in case of relapse, which represents a substantial advantage over all currently available safeguard strategies.
In summary, we provide first experimental evidence for using αCAR-redirected T cells for selective elimination of gene-modified T cells in case of life-threatening CAR therapy-related side effects. For specific recognition of CAR-expressing T cells, we integrated a small epitope tag (E-tag) into the CAR architecture without impairing functionality of the original construct. This E-tag then serves as a targetable moiety for specific and stringent CAR T-cell depletion via autologous αCAR-engrafted T cells. As the E-tag can be incorporated into all CARs irrespective of the targeted tumor antigen, it represents a promising universal tool to enhance safety of all kinds of cell-based immunotherapies.
Acknowledgements
We thank Julia Lagler for excellent technical assistance.
Compliance with ethical standards
Conflict of interest
Michael P. Bachmann is the inventor of the UniCAR platform and, together with Armin Ehninger and Gerhard Ehninger, is a shareholder of the company GEMoaB which holds licenses, patents, and has filed patent applications related to the UniCAR platform. Michael P. Bachmann and Armin Ehninger hold patents related to anti-La mAbs and the La epitopes used in this paper. Marc Cartellieri is an employee of Cellex PT. The remaining authors declare no conflict of interest.
Ethical approval and ethical standards
The work regarding human T cells was approved by the local ethics committee of the university hospital of the Medical Faculty `Carl Gustav Carus', Technische Universität Dresden (EK27022006). Animal experiments were performed at the Helmholtz-Zentrum Dresden-Rossendorf in accordance with the guidelines of German Regulations of Animal Welfare. The animal study has been approved by the local authorities (Landesdirektion Dresden, 24-9165.40-4, 24.9168.21e4/2004-1). This article does not contain studies with human participants by any of the authors.
Informed consent
Buffy coats from healthy donors were supplied by the German Red Cross (Dresden, Germany) with written informed consent to use the blood for research purposes.
Animal source
All mice used for this study were purchased from Janvier Labs, St. Berthevin, France.
Cell line authentication
HEK293T (CRL-11268), PC3 (CRL-1435), 3T3 (CRL-1658), and CHO (CCL-61) cells were obtained from the American Type Culture Collection. As they were recently bought, no further authentication was performed.
Open Access
This article is distributed under the terms of the Creative Commons Attribution 4.0 International License (
http://​creativecommons.​org/​licenses/​by/​4.​0/​
), which permits unrestricted use, distribution, and reproduction in any medium, provided you give appropriate credit to the original author(s) and the source, provide a link to the Creative Commons license, and indicate if changes were made.
Publisher's Note
Springer Nature remains neutral with regard to jurisdictional claims in published maps and institutional affiliations.