01.12.2017 | Research article | Ausgabe 1/2017 Open Access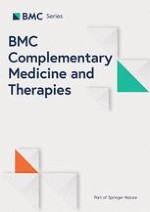 Antiangiogenic effects of oridonin
Zeitschrift:
Autoren:

Lili Tian, Kangjie Xie, Donglai Sheng, Xiaoqing Wan, Guofu Zhu
Abstract
Background
Oridonin, the major terpene found in
Rabdosia rubescens
(Henmsl.) Hara, is widely used as a dietary supplement and therapeutic drug. Oridonin has been proven to possess good anti-tumour activity, but little is known about its effect on angiogenesis. The aim of this study was to investigate the antiangiogenic effects of oridonin in vivo and in vitro and prove that oridonin anti-tumour activity is based on suppressing angiogenesis.
Methods
In vitro, the antiangiogenesis effect was studied by proliferation, apoptosis, migration, invasion, and tube formation experiments on human umbilical vascular endothelial cells (HUVECs). In vivo, using the Tg (fli1: GFP) zebrafish model, the embryonic vasculogenesis and postnatal regeneration were evaluated. The vascular endothelial growth factor (VEGF) signalling pathway gene expressions were assessed by reverse transcription-polymerase chain reaction (RT-PCR). Furthermore, the inhibition effects on tumour growth and metastasis were observed using a xenograft zebrafish tumour model and xenograft nude mouse tumour model. Angiogenesis was assayed by immunostaining with cluster of differentiation 31. Importantly, the proteins were identified as being differentially expressed in an in vivo model by two-dimensional electrophoresis-mass spectrometry (2D–MS) and western blot (WB).
Results
The results indicated that oridonin inhibited HUVEC proliferation, migration, invasion, and tube formation and induced cell apoptosis. Oridonin inhibited zebrafish angiogenesis during embryonic development and tail fin regeneration. RT-PCR showed that oridonin decreased the VEGFA, VEGFR2, and VEGFR3 expressions in zebrafish, while the TP53 expression increased. Moreover, oridonin had strong effects on tumour growth and metastasis in vivo. 2D–MS identified a total of 50 proteins differentially expressed (17 up-expressed, 28 down-expressed). Lastly, WB showed that Claudin 1, Claudin 4, and Claudin 7 were closely related to tumour growth and metastasis.
Conclusion
This study demonstrated that oridonin could inhibit tumour growth and metastasis, which mainly based on oridonin antiangiogenic effects. Claudin 1, Claudin 4, and Claudin 7 were the main contributors to the mechanism.