30.05.2019 | Original Research | Ausgabe 8/2019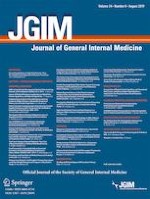 Are We Choosing Wisely? Older Adults' Cancer Screening Intentions and Recalled Discussions with Physicians About Stopping
Zeitschrift:
Autoren:

MD, MS Ashwin A. Kotwal, MD Louise C. Walter, MD, MAS Sei J. Lee, MD, PhD William Dale
Wichtige Hinweise
Electronic supplementary material
Publisher's Note
Springer Nature remains neutral with regard to jurisdictional claims in published maps and institutional affiliations.
Abstract
Background
National guidelines recommend against cancer screening for older individuals with less than a 10-year life expectancy, but it is unknown if this population desires ongoing screening.
Objective
To determine (1) if older individuals with < 10-year life expectancy have future intentions for cancer screening, (2) if they recall a doctor previously suggesting that screening is no longer needed, and (3) individual characteristics associated with intentions to seek screening.
Design
National Social life Health and Aging Project (2015–2016), a nationally representative, cross-sectional survey.
Participants
Community-dwelling adults 55–97 years old (
n
 = 3816).
Main Measures
Self-reported: (1) mammography and PSA testing within the last 2 years, (2) future intentions to be screened, and (3) discussion with a doctor that screening is no longer needed. Ten-year life expectancy was estimated using the Lee prognostic index. Multivariate logistic regression analysis examined intentions to pursue future screening, adjusting for sociodemographic and health covariates.
Key Results
Among women 75–84 with < 10-year life expectancy, 59% intend on future mammography and 81% recall no conversation with a doctor that mammography may no longer be necessary. Among men 75–84 with < 10-year life expectancy, 54% intend on future PSA screening and 77% recall no discussions that PSA screening may be unnecessary. In adjusted analyses, those reporting recent cancer screening or no recollection that screening may not be necessary were more likely to want future mammography or PSA screening (
p
 < 0.001).
Conclusion
Over 75% of older individuals with limited life expectancy intend to continue cancer screening, and less than 25% recall discussing with physicians the need for these tests. In addition to public health and education efforts, these results suggest that older adults' recollection of being told by physicians that screening is not necessary may be a modifiable risk factor for reducing overscreening in older adults with limited life expectancy.