22.01.2019 | Scientific Article | Ausgabe 7/2019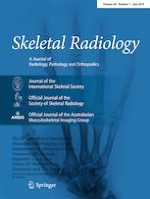 B-cell peripheral neurolymphomatosis: MRI and 18F-FDG PET/CT imaging characteristics
Zeitschrift:
Autoren:

Anthony H. DeVries, Benjamin M. Howe, Robert J. Spinner, Stephen M. Broski
Wichtige Hinweise
Publisher's note
Springer Nature remains neutral with regard to jurisdictional claims in published maps and institutional affiliations.
One of the patients included in our cohort was previously included in a published article:
Capek S, Hebert-Blouin MN, Puffer RC, Martinoli C, Frick MA, Amrami KK, et al. Tumefactive appearance of peripheral nerve involvement in hematologic malignancies: a new imaging association. Skeletal Radiol. 2015; 44
[
6
]
:1001-1009.
This publication was co-authored by one of the current manuscript's co-authors and the citation has been included in the manuscript.
Abstract
Objective
To examine the MRI and 18F-FDG PET/CT imaging characteristics of peripheral neurolymphomatosis.
Materials and methods
All institutional cases of neurolymphomatosis with an MRI or 18F-FDG PET/CT from 2000 to 2017 were retrospectively reviewed. Included cases were biopsy-proven neurolymphomatosis or lymphoma patients with clinical and imaging evidence of neurolymphomatosis that resolved after chemotherapy. Multiple imaging parameters and clinical characteristics were recorded.
Results
There were 27 cases of B-cell neurolymphomatosis in 25 patients (18 M, 7 F; mean age 64.6 ± 10.0 years). Of the total cases, 85% (23/27) were biopsy-proven. Most were diagnosed after disease progression or recurrence (20/27, 74%), and presented with isolated nerve involvement (18/27, 67%). Bone marrow biopsy (17/19, 89%) and CSF cytology (16/23, 70%) were usually negative. On
18
F-FDG PET/CT, neurolymphomatosis presented as a linear or fusiform (23/26, 88%), FDG-avid (average SUVmax: 7.1 ± 4.5, range, 1.5–17.0) mass, and on MRI as a T2-weighted hyperintense (21/22, 95%), enhancing (21/22, 95%), linear or fusiform mass (19/22, 86%), with associated muscle denervation (14/22, 64%). FDG avidity was significantly higher in patients with muscular denervation on MRI (mean SUVmax 8.2 ± 4.6 vs. 4.3 ± 2.3,
p
 = 0.04).
Conclusions
B-cell neurolymphomatosis most commonly manifests as T2-weighted hyperintense, enhancing linear or fusiform neural enlargement associated with muscular denervation on MRI, with intense FDG activity on PET/CT. It is most often an isolated site of disease, presenting after progression or recurrence. A familiarity with the imaging appearance of neurolymphomatosis can help refine the differential diagnosis, direct biopsy, and aid in accurate diagnosis.