30.10.2017 | Original Research | Ausgabe 3/2018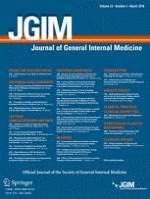 Barriers to and Facilitators of Alcohol Use Disorder Pharmacotherapy in Primary Care: A Qualitative Study in Five VA Clinics
Zeitschrift:
Autoren:

PhD, MPH Emily C. Williams, MN, ARNP Carol E. Achtmeyer, MSW, MPH Jessica P. Young, MD, M Litt Douglas Berger, PhD Geoffrey Curran, MD, MPH Katharine A. Bradley, MPH Julie Richards, MD, MPH Michael B. Siegel, PhD Evette J. Ludman, PhD, MSW, MPH Gwen T. Lapham, PhD Mark Forehand, PhD Alex H. S. Harris
Abstract
Background
Three medications are FDA-approved and recommended for treating alcohol use disorders (AUD) but they are not offered to most patients with AUD. Primary care (PC) may be an optimal setting in which to offer and prescribe AUD medications, but multiple barriers are likely.
Objective
This qualitative study used social marketing theory, a behavior change approach that employs business marketing techniques including "segmenting the market," to describe (1) barriers and facilitators to prescribing AUD medications in PC, and (2) beliefs of PC providers after they were segmented into groups more and less willing to prescribe AUD medications.
Design
Qualitative, interview-based study.
Participants
Twenty-four providers from five VA PC clinics.
Approach
Providers completed in-person semi-structured interviews, which were recorded, transcribed, and analyzed using social marketing theory and thematic analysis. Providers were divided into two groups based on consensus review.
Key Results
Barriers included lack of knowledge and experience, beliefs that medications cannot replace specialty addiction treatment, and alcohol-related stigma. Facilitators included training, support for prescribing, and behavioral staff to support follow-up. Providers more willing to prescribe viewed prescribing for AUD as part of their role as a PC provider, framed medications as a potentially effective "tool" or "foot in the door" for treating AUD, and believed that providing AUD medications in PC might catalyze change while reducing stigma and addressing other barriers to specialty treatment. Those less willing believed that medications could not effectively treat AUD, and that treating AUD was the role of specialty addiction treatment providers, not PC providers, and would require time and expertise they do not have.
Conclusions
We identified barriers to and facilitators of prescribing AUD medications in PC, which, if addressed and/or capitalized on, may increase provision of AUD medications. Providers more willing to prescribe may be the optimal target of a customized implementation intervention to promote changes in prescribing.