01.12.2016 | Research | Ausgabe 1/2016 Open Access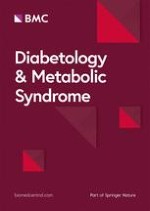 Baseline characteristics and risk factors for ulcer, amputation and severe neuropathy in diabetic foot at risk: the BRAZUPA study
Zeitschrift:
Autoren:

Maria Candida R. Parisi, Arnaldo Moura Neto, Fabio H. Menezes, Marilia Brito Gomes, Rodrigo Martins Teixeira, José Egídio Paulo de Oliveira, Joana Rodrigues Dantas Pereira, Reine Marie Chaves Fonseca, Lorena Barreto Arruda Guedes, Adriana Costa e Forti, Ana Mayra Andrade de Oliveira, Marta Barreto de Medeiros Nóbrega, Víctor Nóbrega Quintas Colares, Helena Schmid, Otto Henrique Nienov, Marcia Nery, Túlio Diniz Fernandes, Hermelinda C. Pedrosa, Cristina da S. Schreiber de Oliveira, Marcelo Ronsoni, Karla Freire Rezende, Maria Teresa Verrone Quilici, Alexandre Eduardo Franzin Vieira, Geisa Maria Campos de Macedo, Eliana Gabas Stuchi-Perez, Kandir Genésio Innocenti Dinhane, Ana Emilia Pace, Maria Cristina Foss de Freitas, Maria Regina Calsolari, Mario José Abdalla Saad
Abstract
Background
Studies on diabetic foot and its complications involving a significant and representative sample of patients in South American countries are scarce. The main objective of this study was to acquire clinical and epidemiological data on a large cohort of diabetic patients from 19 centers from Brazil and focus on factors that could be associated with the risk of ulcer and amputation.
Methods
This study presents cross sectional, baseline results of the BRAZUPA Study. A total of 1455 patients were included. Parameters recorded included age, gender, ethnicity, diabetes and comorbidity-related records, previous ulcer or amputation, clinical symptomatic score, foot classification and microvascular complications.
Results
Patients with ulcer had longer disease duration (17.2 ± 9.9 vs. 13.2 ± 9.4 years; p < 0.001), and poorer glycemic control (HbA1c 9.23 ± 2.03 vs. 8.35 ± 1.99; p < 0.001). Independent risk factors for ulcer were male gender (OR 1.71; 95 % CI 1.2–3.7), smoking (OR 1.78; 95 % CI 1.09–2.89), neuroischemic foot (OR 20.34; 95 % CI 9.31–44.38), region of origin (higher risk for those from developed regions, OR 2.39; 95 % CI 1.47–3.87), presence of retinopathy (OR 1.68; 95 % CI 1.08–2.62) and absence of vibratory sensation (OR 7.95; 95 % CI 4.65–13.59). Risk factors for amputation were male gender (OR 2.12; 95 % CI 1.2–3.73), type 2 diabetes (OR 3.33; 95 % CI 1.01–11.1), foot at risk classification (higher risk for ischemic foot, OR 19.63; 95 % CI 3.43–112.5), hypertension (lower risk, OR 0.3; 95 % CI 0.14–0.63), region of origin (South/Southeast, OR 2.2; 95 % CI 1.1–4.42), previous history of ulcer (OR 9.66; 95 % CI 4.67–19.98) and altered vibratory sensation (OR 3.46; 95 % CI 1.64–7.33). There was no association between either outcome and ethnicity.
Conclusions
Ulcer and amputation rates were high. Age at presentation was low and patients with ulcer presented a higher prevalence of neuropathy compared to ischemic foot at risk. Ischemic disease was more associated with amputations. Ethnical differences were not of great importance in a miscegenated population.