16.06.2017 | Review | Ausgabe 6/2017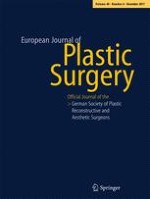 Becker nevus syndrome and ipsilateral breast hypoplasia: a systematic literature review
Zeitschrift:
Autoren:

Martina E. Schneider, Elmar Fritsche, Urs Hug, Pietro Giovanoli
Abstract
Although the Becker nevus syndrome (BNS) is primarily defined as a Becker nevus (BN) in association with ipsilateral breast hypoplasia or musculoskeletal malformation, there are case reports about various associated malformations. The purpose of this study was to identify and analyze the common manifestations of the BNS. We conducted a systematic literature research about BNS and reviewed all available literature. In order to get an overview of the clinical manifestation, we analyzed all case reports by descriptive statistics. The most common manifestation of a BNS is breast hypoplasia, followed by musculoskeletal malformation and scoliosis. The regional correspondance between the skin manifestation and the malformation was strong for breast hypoplasia, musculoskeletal malformation, maxillofacial dysplasia, and lipodystrophy. Not all of the reported malformations are likely to be a manifestation of the BNS. By far, the most commonly described malformation is ipsilateral breast hypoplasia. Therefore, we would like to enhance the awareness of this syndrome among plastic surgeons.
Level of Evidence: Not ratable.