28.03.2019 | Original Article | Ausgabe 6/2019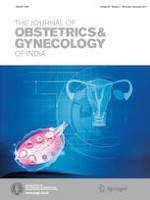 Can RBC Indices be Used as Screening Test for Beta-Thalassemia in Indian Antenatal Women?
Zeitschrift:
Autoren:

Mayura Baliyan, Manisha Kumar, Anita Nangia, Nupur Parakh
Wichtige Hinweise
Mayura Baliyan is a Resident at Department of Obstetrics and Gynecology, LHMC, New Delhi, India. Manisha Kumar is a Professor (OBGYN) at Department of Obstetrics and Gynecology, LHMC, New Delhi, India. Anita Nangia is a Professor at Department of Pathology, LHMC, New Delhi, India. Nupur Parakh is a Senior Medical Officer at KSCH, New Delhi, India.
Publisher's Note
Springer Nature remains neutral with regard to jurisdictional claims in published maps and institutional affiliations.
Abstract
Objective
To determine the appropriateness of using MCV/MCH as screening test for beta-thalassemia trait in the present population and also to find the most appropriate cutoff for optimum sensitivity of these indices.
Methods
It was an analytical, observational and cross-sectional study. Complete blood count followed by high-performance liquid chromatography (HPLC) was performed. The MCV and MCH levels were noted in cases and controls.
Results
Thalassemia trait was found in 66 out of 1300 antenatal women with anemia. The MCV and MCH were significantly low in cases (
p 
= 0.0001). MCV had a better AUC (0.650) than MCH (0.635). The most suitable cutoff value of MCV was calculated as 72 fl (sensitivity—63.7%, specificity—68.3%, PPV—9.7%, LR—2.0) and that for MCH was 24 pg (sensitivity—63.6%, specificity—59.4%, PPV—7.7%, LR—1.5) using Youden's index. When MCH (cutoff of 28 pg) and MCV were combined (cutoff of 74 fl), the sensitivity and specificity were 95% and 16%, respectively.
Conclusion
The sensitivity and specificity of MCV and MCH alone had low detection rate when used in combination had high sensitivity but the specificity was low; therefore, HPLC should be the preferred screening test for beta-thalassemia in Indian women.