01.12.2017 | Case report | Ausgabe 1/2017 Open Access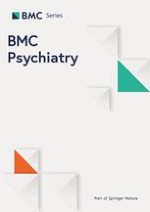 Case report of anti-N-methyl-D-aspartate receptor encephalitis in a middle-aged woman with a long history of major depressive disorder
Zeitschrift:
Autoren:

Xia Rong, Zhenzhen Xiong, Bingrong Cao, Juan Chen, Mingli Li, Zhe Li
Abbreviations
DSM
Diagnostic and Statistical Manual of Mental Disorders
ENA
Extractable Nuclear Antigen
MRI
Magnetic Resonance Imaging
NMDAR
N-methyl-D-aspartate receptor
Background
Case presentation
Here, we present a 52-year-old Chinese woman. 6 years before her admission, she began to feel a depressive mood, inferiority and desperation, as well as insomnia, retardation, and social withdrawal. She lacked interest in doing anything and rarely felt happy. She lost any desire to prepare meals for her family and complained constantly. She reported having thoughts about suicide but never attempted it. She and her family did not act on these symptoms, so the patient never sought or received medical treatment. One month before her admission, the depressed mood exacerbated. She felt hopeless, worthlessness, guilt, and had recurrent suicidal ideation. At the same time, she developed into delusions, feelings of reference and persecution, and auditory hallucinations in the form of commentary, repetitive speaking about inappropriate sexual relations, death and the dead body. She also exhibited abnormal behaviors including irrational laughter, yelling, cursing and praising God. Although her consciousness was not disturbed, she occasionally failed to recognize her husband or daughters. Her appetite and sleep were poor.
She underwent hysterectomy, bilateral salpingo-oophorectomy and postoperative radio-chemotherapy to treat cervical carcinoma 6 years ago. The patient reported never drinking or smoking, and she was allergic to pollen. She had worked as a kindergarten teacher, but she stopped working after giving birth. Her husband did not live with the patient and daughters. She had no family history of mental disorders.
Her vital signs were stable, and no abnormal physical or neurological signs were detected at admission. Blood and urine tests were routine, blood glucose and liver and renal functions were normal, and no evidence of infection was found. Antithyroglobulin antibody was 273.80 IU/ml (reference value<115), antithyroperoxidase antibody was 596.10 IU/ml (reference value<34), free triiodothyronine was 3.35 pmol/L (reference value 3.60–7.50). Electroencephalography (EEG), electrocardiogram, and transcranial Doppler ultrasound results were normal. Antinuclear antibody (ANA) was detected in serum at a titer of 1:1000, while antibodies against Extractable nuclear antigen (ENA) or cardiolipin were not detected in serum. Brain MRI revealed several small ischemic foci in bilateral frontal lobes. The patient can't finish the cognitive testing due to non-cooperation when admission. She and her family members denied any abuse of alcohol or illicit substances. Her family history was negative for mental illness.
The patient was diagnosed with severe major depressive disorder with psychotic features, based on the Structured Clinical Interview in the 4th edition of the Diagnostic and Statistical Manual of Mental Disorders (DSM-IV). She was treated with venlafaxine (75 mg every morning, increased 5 days later to 150 mg), lorazepam (0.5 mg every night), olanzapine (5 mg every morning, 15 mg every night), and electroconvulsive therapy (on two occasions). 5 days later, she slept well, but her mood still depressed and presented delusions of persecution, auditory hallucinations, abnormal behaviors continued. After she had spent one week in the hospital, her condition suddenly worsened: she began to talk nonsense loudly, she felt disoriented, and she did not recognize family members or her environment. She became restless and drank water repeatedly throughout the night. The next morning she suddenly stopped speaking. These symptoms continued to alternate over the course of each day.
This rapidly and dramatically changing disease course led us to organize a consultation with the neurology department. Neurological examination gave no remarkable findings, and lumber puncture was advised. CSF analysis showed no remarkable abnormalities in pressure, appearance, cells, proteins, glucose, chloride, IgG synthesis rate, or results of smear culturing for bacteria, tubercle bacilli, and fungi. The CSF was assayed for autoimmune encephalitis antibodies at Peking Union Medical College Hospital. Cell based assay was used to detect the antibodies of NMDAR, CASPR2, AMPA1-R, AMPA2-R, LGI1 and GABA2-R, and immunoblotting was used to detect the antibodies of Hu, Ri, Yo, PNMA2 (Ma2/Ta), and CV2/CRMP2 [
6
,
12
]. The results indicated the presence of specific IgG antibodies against NR1 in NMDAR at a titer of 1:100 (Cut-off value 1:10). The other antibodies including CASPR2, AMPA1-R, AMPA2-R, LGI1, GABA2-R, Hu, Ri, Yo, PNMA2 (Ma2/Ta), and CV2/CRMP2 were negative. The patient was diagnosed with concurrent anti-NMDAR encephalitis and severe major depressive disorder with psychotic features.
At 15 days after hospitalization, the patient was transferred to the neurology department for further treatment. She was given intravenous methylprednisolone (1000 mg daily for 5 days) and immunoglobulin (20 g daily for 5 days), as well as venlafaxine (75 mg every morning), lorazepam (0.5 mg every night) and olanzapine (5 mg every night). During 2 weeks of treatment, her disorientation, behavioral disturbances, hallucinations, and delusions gradually disappeared. She was discharged still in a depressive mood; she was not talkative and showed obvious social withdrawal behavior.
2 months later, she was re-admitted to the neurology department as normal follow-up. Her emotional state, appetite and sleep were good. No cognitive or behavioral abnormalities were found. Lumber puncture was conducted a second time, and CSF analysis revealed the presence of specific IgG antibodies against NR1 in NMDAR at a reduced titer of 1:10. She was prescribed oral medications (venlafaxine 75 mg every morning, lorazepam 0.5 mg every night, olanzapine 5 mg every night) and followed up on an outpatient basis.
Discussion
Conclusions
Our case report highlights the need for clinicians to consider the possibility of anti-NMDAR encephalitis after a long-term diagnostic history of depressive disorder, especially in patients presenting with new-onset acute psychotic symptoms and alternated so abruptly, and presenting with disorientation, even no specific findings on routine neuroimaging, EEG, or CSF analysis. It also highlights the need for further research into potential associations between this autoimmune disorder and onset or progression of major depressive disorder and schizophrenia.
Acknowledgements
The authors would like to thank all of their coworkers of West China Hospital, School of Nursing, Chengdu Medical College and The Mental Rehabilitation Center, Karamay Municipal People's Hospital on this case for their skillful contributions.
Funding
This work was partly funded by National Nature Science Foundation of China (81501174, Mingli Li), Science and Technology Department of Sichuan Province (2017SZ0049, Zhe Li), Health and Family Planning Commission of Sichuan Province (17PJ080, Zhe Li), and The Fundamental Research Funds for The Central Universities (2017SCU11072, Zhe Li).
Availability of data and materials
This is a single-patient case report. Data sharing is not applicable to this article as no datasets besides those mentioned in the article were generated or analysed.
CARE checklist
We adhered to CARE guidelines/methodology.
Ethics approval and consent to participate
Written informed consent was obtained from the patient for the case report. West China Hospital Ethics Committee approved the study.
Consent for publication
The participant received a complete description of the report and provided written informed consent. A copy of the written consent is available for review by the editor of this journal.
Competing interests
The authors declare that they have no competing interests.
Publisher's Note
Springer Nature remains neutral with regard to jurisdictional claims in published maps and institutional affiliations.
Open Access
This article is distributed under the terms of the Creative Commons Attribution 4.0 International License (
http://​creativecommons.​org/​licenses/​by/​4.​0/​
), which permits unrestricted use, distribution, and reproduction in any medium, provided you give appropriate credit to the original author(s) and the source, provide a link to the Creative Commons license, and indicate if changes were made. The Creative Commons Public Domain Dedication waiver (
http://​creativecommons.​org/​publicdomain/​zero/​1.​0/​
) applies to the data made available in this article, unless otherwise stated.