01.12.2019 | Research | Ausgabe 1/2019 Open Access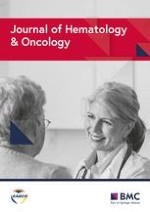 CD73 promotes hepatocellular carcinoma progression and metastasis via activating PI3K/AKT signaling by inducing Rap1-mediated membrane localization of P110β and predicts poor prognosis
Zeitschrift:
Autoren:

Xiao-Lu Ma, Min-Na Shen, Bo Hu, Bei-Li Wang, Wen-Jing Yang, Li-Hua Lv, Hao Wang, Yan Zhou, An-Li Jin, Yun-Fan Sun, Chuan-Yan Zhang, Shuang-Jian Qiu, Bai-Shen Pan, Jian Zhou, Jia Fan, Xin-Rong Yang, Wei Guo
Wichtige Hinweise
Electronic supplementary material
Xiao-Lu Ma, Min-Na Shen and Bo Hu contributed equally to this work.
Abstract
Background
Hepatocellular carcinoma (HCC) is one of the most prevalent malignancies worldwide because of rapid progression and high incidence of metastasis or recurrence. Accumulating evidence shows that CD73-expressing tumor cell is implicated in development of several types of cancer. However, the role of CD73 in HCC cell has not been systematically investigated and its underlying mechanism remains elusive.
Methods
CD73 expression in HCC cell was determined by RT-PCR, Western blot, and immunohistochemistry staining. Clinical significance of CD73 was evaluated by Cox regression analysis. Cell counting kit-8 and colony formation assays were used for proliferation evaluation. Transwell assays were used for motility evaluations. Co-immunoprecipitation, cytosolic and plasma membrane fractionation separation, and ELISA were applied for evaluating membrane localization of P110β and its catalytic activity. NOD/SCID/γc(null) (NOG) mice model was used to investigate the in vivo functions of CD73.
Results
In the present study, we demonstrate that CD73 was crucial for epithelial-mesenchymal transition (EMT), progression and metastasis in HCC. CD73 expression is increased in HCC cells and correlated with aggressive clinicopathological characteristics. Clinically, CD73 is identified as an independent poor prognostic indicator for both time to recurrence and overall survival. CD73 knockdown dramatically inhibits HCC cells proliferation, migration, invasion, and EMT in vitro and hinders tumor growth and metastasis in vivo. Opposite results could be observed when CD73 is overexpressed. Mechanistically, adenosine produced by CD73 binds to adenosine A2A receptor (A2AR) and activates Rap1, which recruits P110β to the plasma membrane and triggers PIP3 production, thereby promoting AKT phosphorylation in HCC cells. Notably, a combination of anti-CD73 and anti-A2AR achieves synergistic depression effects on HCC growth and metastasis than single agent alone.
Conclusions
CD73 promotes progression and metastasis through activating PI3K/AKT signaling, indicating a novel prognostic biomarker for HCC. Our data demonstrate the importance of CD73 in HCC in addition to its immunosuppressive functions and revealed that co-targeting CD73 and A2AR strategy may be a promising novel therapeutic strategy for future HCC management.