01.06.2013 | original report | Ausgabe 2/2013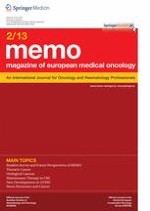 CECOG experts' recommendations on the use of denosumab in the prevention of skeletal-related events in bone metastases of lung cancer
Zeitschrift:
Autoren:

MD Wolfgang Hilbe, MD Ufuk Abacioglu, MD Daniel M. Aebersold, MD Mounir Bachouchi, MD Thomas Brodowicz, MD Prof Rabab Gaafar, MD Gerold Holzer, MD Andrea Mohn-Staudner, MD Dimitar Kalev, MD Ewa Kalinka-Warzocha, MD Viljem Kovac, MD Marco Siano, MD Fulden Yumuk, MD Lilla Tamasi
Abstract
Purpose
Skeletal-related events represent a substantial burden for patients with advanced cancer. Randomized, controlled studies suggested superiority of denosumab over zoledronic acid in the prevention of skeletal-related events in metastatic cancer patients, with a favorable safety profile. Experts gathered at the 2012 Skeletal Care Academy in Istanbul to bring forward practical recommendations, based on current evidence, for the use of denosumab in patients with bone metastases of lung cancer.
Recommendations
Based on current evidence, use of denosumab in lung cancer patients with confirmed bone metastases is recommended. It is important to note that clinical judgment should take into consideration the patient's general performance status, overall prognosis, and live expectancy. Currently, the adverse event profile reported for denosumab includes hypocalcemia and infrequent occurrence of osteonecrosis of the jaw. Therefore, routine calcium and vitamin D supplementation, along with dental examination prior to denosumab initiation are recommended. There is no evidence for renal function impairment due to denosumab administration. At present, there is no rationale to discourage concomitant use of denosumab and surgery or radiotherapy.