01.12.2018 | Research | Ausgabe 1/2018 Open Access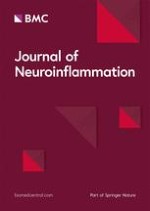 Cell permeable HMGB1-binding heptamer peptide ameliorates neurovascular complications associated with thrombolytic therapy in rats with transient ischemic stroke
Zeitschrift:
Autoren:

Miaodan Li, Shumin Chen, Xue Shi, Chenfei Lyu, Yongfang Zhang, Miaoqin Tan, Chen Wang, Nailiang Zang, Xiaoxi Liu, Yafang Hu, Jiangang Shen, Liang Zhou, Yong Gu
Wichtige Hinweise
Electronic supplementary material
Abstract
Background
Blood–brain barrier (BBB) breakdown and inflammatory responses are the major causes of tissue-type plasminogen activator (tPA)-induced hemorrhagic transformation (HT), while high-mobility group box 1 (HMGB1) exacerbates inflammatory damage to BBB during the process of brain ischemia/reperfusion. This study aimed to investigate the change of HMGB1 after thrombolytic therapy and whether blocking HMGB1 could ameliorate the neurovasculature complications secondary to tPA treatment in stroke rats.
Methods
Sera from acute stroke patients and rats with thrombolytic therapy were collected to investigate HMGB1 secretion. Male Sprague-Dawley rats with 2 h or 4.5 h middle cerebral artery occlusion were continuously infused with tPA followed by administration of membrane permeable HMGB1-binding heptamer peptide (HBHP). The mortality rate, neurological score, HT, brain swelling, BBB permeability, and inflammatory factors were determined.
Results
The results revealed that HMGB1 levels were elevated in both stroke patients and rats after tPA treatment. Blocking HMGB1 signaling by HBHP in the rat model of 4.5 h brain ischemia significantly attenuated tPA-related complications, including mortality rate, the degree of hemorrhage, brain swelling, neurological deficits, BBB impairment, microglia activation, and the expressions of inflammatory cytokines.
Conclusions
tPA treatment might induce HMGB1 secretion while blocking HMGB1 with HBHP could markedly reduce the risk of thrombolysis-associated brain hemorrhage and mortality through attenuating BBB damage and inflammatory reactions. These results indicate that HMGB1 may potentiate the risk of HT in tPA administration and that blocking HMGB1 signaling would be helpful in preventing complications brought by thrombolysis in ischemic stroke.