01.12.2018 | Research | Ausgabe 1/2018 Open Access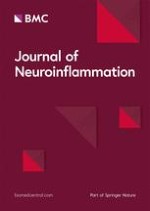 Cell permeable HMGB1-binding heptamer peptide ameliorates neurovascular complications associated with thrombolytic therapy in rats with transient ischemic stroke
Zeitschrift:
Autoren:

Miaodan Li, Shumin Chen, Xue Shi, Chenfei Lyu, Yongfang Zhang, Miaoqin Tan, Chen Wang, Nailiang Zang, Xiaoxi Liu, Yafang Hu, Jiangang Shen, Liang Zhou, Yong Gu
Wichtige Hinweise
Electronic supplementary material
Abbreviations
ELISA
Enzyme-linked immunosorbent assay
EPCs
Endothelial progenitor cells
HBHP
HMGB1-binding heptamer peptide
HMGB1
High-mobility group box 1
HT
Hemorrhagic transformation
mAb
Neutralizing monoclonal antibody
MCAO
Middle cerebral artery occlusion
mNSS
Modified Neurological Severity Score
SLE
Systemic lupus erythematosus
tPA
Tissue-type plasminogen activator
TTC
2,3,5-Triphenyltetrazolium chloride
Background
Ischemic stroke is the second leading cause of death worldwide while the therapeutic approaches are limited [
1
]. Tissue-type plasminogen activator (tPA) is the only FDA-approved drug for ischemic stroke, but its use is finite due to the narrow therapeutic time window (within 3 h or 4.5 h) and the increased risk of severe neurovascular complications, such as hemorrhagic transformation (HT) and edema [
2
], resulting in the fact that more than 95% of stroke patients cannot benefit from thrombolytic therapy [
3
]. The leakage of blood–brain barrier (BBB) is a critical factor causing tPA-associated HT and edema [
4
]. Therefore, exploring a combination therapy that can preserve BBB integrity is a promising therapeutic strategy to reduce the risk of neurovasculature complications.
Although the mechanisms underlying BBB breakdown and tPA-induced neurovascular complications are not fully understood, it has been suggested that they occur as a result of exaggeration of neuroinflammation [
5
]. Danger signals, such as high-mobility group box 1 (HMGB1) and ATP, were released into the environment from dying cells, leading to the activation of microglia and the expression of inflammatory factors in ischemic brain [
6
]. HMGB1, a non-histone DNA-binding protein localized in the nucleus, can be either actively secreted by immune cells or passively released from necrotic cells in response to infections and tissue injuries [
7
,
8
]. Studies conducted by us and others revealed that the binding of extracellular HMGB1 to pattern recognition receptors of microglia could induce a significant elevation of cytokines expression, thereby eliciting inflammatory responses during brain ischemia/reperfusion [
9
,
10
]. Moreover, HMGB1 serves as an extracellular inflammatory cytokine and contributes to neuronal injury and BBB disruption. HMGB1 level was elevated in patients with ischemic stroke [
11
,
12
]. Anti-HMGB1 monoclonal antibody reduces infarct volume by 90% and potently reduces BBB permeability in stroke animal models [
13
,
14
]. Administration of low-dose HMGB1-binding heptamer peptide (HBHP) significantly suppressed HMGB1-mediated neuronal damage [
15
]. But the relationship between HMGB1 and tPA-induced complications is unclear. Given that neuroinflammation contributes to the BBB disruption and tPA's neurovascular complications, we logically hypothesize that HMGB1 may potentiate the risk of tPA-associated complications, while blocking HMGB1-induced inflammation could protect BBB integrity, subsequently reducing tPA-induced hemorrhage during thrombolytic therapy for ischemic stroke.
Methods
Patients
Participants were selected from acute stroke patients admitted to the Department of Neurology, Nanfang Hospital, Southern Medical University. Enrollment criteria included subjects who were diagnosed with acute cerebral ischemia caused by occlusion of middle cerebral artery and met the criteria for thrombolysis. Excluded patients were those suffering from acute inflammatory illness, autoimmune diseases, or cancer. Patients who recently took anti-inflammatory drugs, glucocorticoid, or embolectomy were also ruled out. The study was approved by the ethics committee of the Nanfang Hospital, Southern Medical University (NO. NFEC-2016-171). Written informed consent was provided by patients or legally authorized representatives, and we obtained the consent from every participants or representatives to publish and report the data.
Animals and ethics statement
Male Sprague-Dawley rats weighing 250~300 g were obtained from the Experimental Animal Center, Southern Medical University. All animals were housed in a standard light-dark cycle with an average temperature of 23 °C. Food and water were provided ad libitum. All procedures were approved by the committee on Animal Care and Use of Nanfang Hospital, Southern Medical University, and followed the guide and care for the use of laboratory animals published by US NIH. A total of 166 rats were employed in the study. All efforts were made to minimize the number of animals used and their pain suffered.
Transient focal brain ischemia/reperfusion model
Middle cerebral artery occlusion (MCAO) model was employed as we previously described [
16
] to induce transient focal brain ischemia/reperfusion. Briefly, rats were anesthetized by inhalation of 5% isoflurane and maintained by 2% isoflurane in a mixture of 70% N2O and 30% O2. A piece of 3/0 monofilament nylon suture with its tip lapped round by silicone was introduced via lumen of right external carotid artery stump to embed into right anterior cerebral artery so that right MCA was occluded at its origin. Rats in sham-operated group underwent the same procedures except occluding the MCA. The temperature was maintained at 37 ± 0.1 °C until animals woke up completely. Animal operations and preclinical stroke study were followed ARRIVE guidelines [
17
]. Cerebral blood flow velocity of the right MCA territory (core cortex, 2 mm posterior and 6 mm lateral to the bregma) was assessed by the laser Doppler blood flow assessment (Moor Instruments, Wilmington, DE). After 2 h or 4.5 h occlusion, suture was removed to induce blood reperfusion whose flow velocity was monitored again (Fig.
1b
). To confirm the success of MCAO, a 2-mm-thick brain coronal section 6 mm away from the tip of the frontal lobe was stained with 2,3,5-triphenyltetrazolium chloride (TTC) [
18
].
×
Detection of HMGB1 and interleukin (IL)-1β in sera from patients and rats
Blood samples from patients were collected pre- and 2 h post-tPA treatment for self-comparison. Rat blood samples were collected pre- and 4 h post-tPA administration. Sera from patients and rats were obtained and the levels of HMGB1 were detected by enzyme-linked immunosorbent assay (ELISA) kits (Chondrex, Redmond, WA). Meanwhile, sera were incubated with Protein A/G MagBeads (GenScript, Piscataway, NJ) to remove immunoglobins followed by Western blot to observe HMGB1 levels. IL-1β in the sera from rats at 8 h after ischemia were also detected by ELISA kits (eBioscience, Austria). Tests were performed by investigators blinded to the origin of samples.
Experimental groups and drug treatment
MCAO rats were randomly divided into four groups with randomized number table and, respectively, administered saline, tPA only, tPA plus scramble peptide or tPA plus HBHP. tPA (Actilyse, 5 mg/kg, Boehringer Ingelheim, German) was injected (10% bonus, 90% continuous infusion for 30 min) via right femoral vein of MCAO rats. The suture was withdrawn to induce reperfusion at 15 min after tPA injection. Different doses of TAT-HBHP (YGRKKRRQRRR-HMSKPVQ, 1, 5, 10 mg/kg) were intravenously administered after tPA treatment within 30 min (Fig.
3a
) [
15
,
19
]. TAT-scramble peptide (YGRKKRRQRRR-PMQSKHV, 5 mg/kg) was employed as vehicle control. Peptides were synthesized by ChinaPeptides, Shanghai, China.
Measurement of survival rate and neurological deficit
Rats were monitored by video camera after surgery, and the time of death was recorded. Neurological deficits at 24 h after MCAO were assessed using modified Neurological Severity Score (mNSS) [
20
]. Neurological function was graded on a series of scales from 0 to 18 with higher scores indicating more severe neurologic deficits. Tests were independently performed by two investigators blinded to animal grouping.
Measurement of brain swelling and brain hemorrhage
At 24 h after ischemia, rats were transcardially perfused with cold PBS. The hemispheric area of each 2-mm-thick brain slice was measured to calculate the brain swelling by using ImageJ software (NIH, Bethesda, MD). The swelling index was calculated using the following equation: extent of brain swelling = (volume of ischemia ipsilateral hemisphere/volume of contralateral hemisphere − 1) × 100%. After taking photographs, the brain tissues were homogenized and centrifuged. QuantiChrom Hemoglobin Assay Kit (BioAssay Systems, Hayward, CA) was used to calculate the levels of hemoglobin in supernatants at 400 nm optical density. Hemoglobin contents of hemispheres were calculated based on optical density and expressed as microgram per gram brain.
Extravasation of Evans blue
Blood–brain barrier (BBB) integrity was assessed by measuring the extravasation of Evans blue dye. Briefly, Evans blue (2% in saline, 4 ml/kg; Sigma-Aldrich) was administered 90 min before sacrifice followed by transcardially perfused with saline to remove the residual dye from the vessels. The hemispheres were weighed and incubated in methanamide (Sigma-Aldrich) in 60 °C water bath overnight. After that, Evans blue content was determined in supernatants at 632 nm and expressed as microgram per gram brain. Gradient concentrations of Evans blue were used to build standard curve.
Western blot analysis
Proteins were prepared from the same regions of ischemic cerebral hemisphere (bregma 0 to + 2 mm) from different treatment groups, or serum proteins after magnetic separation. Fifty micrograms of total proteins were separated on 8 to 12% SDS-PAGE gel. After blocking, the membranes were incubated overnight at 4 °C with the primary antibodies including anti-occludin (1:1000; Invitrogen, Camarillo, CA), anti-COX-2 (1:1000; CST, Beverly, MA), anti-IL-1β, anti-iNOS (1:200; Santa Cruz Biotech, CA), anti-β-actin (1:500; ZSGB-Bio, Beijing, China) or anti-HMGB1 (1:1000; Proteintech, UK), followed by incubation with horseradish peroxidase-conjugated secondary antibodies (1:5000; Santa Cruz Biotech). Bands were detected by ECL advance Western blotting detection reagents (Millipore, Billercia, MA). The band intensities were normalized to β-actin using the ImageJ.
RNA preparation and reverse transcription-PCR
Total RNA was isolated from brains of 4.5 h MCAO rats at 8 h after ischemia onset (bregma − 1 to + 1 mm), and reverse-transcribed to complementary DNA (cDNA) using PrimeScript™ RT Master Mix Kit (Takara, Japan). cDNA samples were then amplified by quantitative real-time PCR on ABI-Prism 7500 Real-Time PCR System (Applied Biosystems, Carlsbad, CA) using SYBR® Premix Ex Taq™ II (Takara). The expression of mRNA was normalized with the internal standard β-actin.
Histological examination
Cryosections cut from rat brains (0~2.0 mm posterior to the bregma) were immunolabeled by primary antibody against IgG (Alexa647; 1:500; Abcam, Cambridge, UK) to evaluate the permeability of BBB at 24 h. Meanwhile, sections collected at 8 h after ischemia were postfixed with 4% formaldehyde, permeabilized with Triton X-100, and blocked with donkey serum, followed by incubation with anti-Iba-1 or CD68 (a marker of activated microglia cells; 1:200; Abcam) overnight at 4 °C, then with the donkey anti-goat (1:500; Abcam) or goat anti-mouse (ZSGB-BIO) secondary antibody. Three serial sections of each brain sample were observed, nine fields were randomly selected in the brain section region surrounded by black solid line (Fig.
6d
) under Olympus Fluoview laser scanning confocal microscope (Olympus, Japan). The mean counts of Iba-1- and CD68-positive cells per field under × 40 magnification were automatically calculated using Image-Pro Plus version 6.0 (Media Cybernetics, Warrendale, PA). All counts were performed blind to the investigator on coded sections.
Statistical analysis
Online Power and Sample Size Calculators (
http://​powerandsamplesi​ze.​com
/) was used to confirm the sample size needed for comparisons to yield statistical significance. Data were expressed as mean ± SD. Statistical significance was evaluated using one-way analysis of variance and followed by Dunnett test for two group comparisons. Nonparametric paired test was adopted for self-comparison. All statistical analyses were performed using SPSS 20.0 (IBM, Armonk, NY) or GraphPad Prism 6.05 (GraphPad, La Jolla, CA).
P
values less than 0.05 were considered to be significant.
Results
Discussion
Since most 4.5 h-tPA rats who might have more amount of brain bleeding could not survive to 24 h, the results of hemoglobin quantification and BBB permeability detected in the survived rats at 24 h were inaccurate, and the results of surviving animals (24 h after MCAO) would have bias. Therefore, we calculated the hemoglobin contents of hemispheres again before the death time of most rats (8 h after ischemia), and found that tPA administration caused more severe hemorrhage, and further indicated the protective effect of HBHP on hemorrhagic transformation.
Conclusions
In conclusion, the levels of serum HMGB1 seemed increased after thrombolysis in stroke patients and animals. Furthermore, HBHP treatment could reduce cerebral hemorrhage, brain swelling and mortality in tPA treatment after stroke. Our findings indicate that HMGB1-mediated inflammation and BBB breakdown may contribute to tPA-induced occurrence of HT and death in ischemic stroke, and that blocking HMGB1 signaling would be helpful to prevent the complications brought by thrombolysis. However, rationally designed clinical studies with well-defined patient population are needed to validate whether HBHP can be developed as an efficacious adjuvant therapy for ischemic stroke.
Acknowledgements
The work was supported by grants from the National Natural Science Foundation of China (No.81400990), the Natural Science Foundation of Guangdong Province of China (No. 2014A030310197), the Science and Technology Plan of Guangdong Province of China (No. 2016A020215113), the President Funding of Nanfang Hospital, Southern Medical University (No. 2016B017), and Hong Kong RGC GRF Grant (Ref No.17102915).
Funding
The study received the following grants: No.81400990 (the National Natural Science Foundation of China), No. 2014A030310197 (the Natural Science Foundation of Guangdong Province of China), No. 2016A020215113 (the Science and Technology Plan of Guangdong Province of China), No. 2016B017 (the President Funding of Nanfang Hospital, Southern Medical University), and Ref No.17102915 (Hong Kong RGC GRF Grant).
Availability of data and materials
The datasets used and/or analyzed during the current study are available from the corresponding author on reasonable request.
Ethics approval
All procedures were approved by the committee on Animal Care and Use of Nanfang Hospital, Southern Medical University, and the ethics committee of the Nanfang Hospital, Southern Medical University.
Consent for publication
Not applicable.
Competing interests
The authors declare that they have no competing interests.
Publisher's Note
Springer Nature remains neutral with regard to jurisdictional claims in published maps and institutional affiliations.
Open Access
This article is distributed under the terms of the Creative Commons Attribution 4.0 International License (
http://​creativecommons.​org/​licenses/​by/​4.​0/​
), which permits unrestricted use, distribution, and reproduction in any medium, provided you give appropriate credit to the original author(s) and the source, provide a link to the Creative Commons license, and indicate if changes were made. The Creative Commons Public Domain Dedication waiver (
http://​creativecommons.​org/​publicdomain/​zero/​1.​0/​
) applies to the data made available in this article, unless otherwise stated.