01.12.2012 | Research | Ausgabe 1/2012 Open Access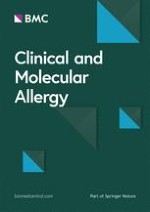 Clara cell protein in nasal lavage fluid and nasal nitric oxide - biomarkers with anti-inflammatory properties in allergic rhinitis
Zeitschrift:
Autoren:

Kristina Irander, Jörgen P Palm, Magnus P Borres, Bijar Ghafouri
Wichtige Hinweise
Electronic supplementary material
The online version of this article (doi:
10.​1186/​1476-7961-10-4
) contains supplementary material, which is available to authorized users.
Competing interests
The authors declare that they have no competing interests.
Authors' contributions
KI, JPP and MPB designed the study. KI and BG designed the analysis of CC16. BG carried out the CC16 analyses. KI and BG evaluated the results and KI performed the statistical analyses. KI, BG and MPB wrote the manuscript. All authors have read, revised and approved the manuscript.
Abstract
Background
Clara cell protein (CC16) is ascribed a protective and anti-inflammatory role in airway inflammation. Lower levels have been observed in asthmatic subjects as well as in subjects with intermittent allergic rhinitis than in healthy controls. Nasal nitric oxide (nNO) is present in high concentrations in the upper airways, and considered a biomarker with beneficial effects, due to inhibition of bacteria and viruses along with stimulation of ciliary motility. The aim of this study was to evaluate the presumed anti-inflammatory effects of nasal CC16 and nNO in subjects with allergic rhinitis.
Methods
The levels of CC16 in nasal lavage fluids, achieved from subjects with persistent allergic rhinitis (n = 13), intermittent allergic rhinitis in an allergen free interval (n = 5) and healthy controls (n = 7), were analyzed by Western blot. The levels of nNO were measured by the subtraction method using NIOX®. The occurrences of effector cells in allergic inflammation, i.e. metachromatic cells (MC, mast cells and basophiles) and eosinophils (Eos) were analyzed by light microscopy in samples achieved by nasal brushing.
Results
The levels of CC16 correlated with nNO levels (r2 = 0.37; p = 0.02) in allergic subjects.
The levels of both biomarkers showed inverse relationships with MC occurrence, as higher levels of CC16 (p = 0.03) and nNO (p = 0.05) were found in allergic subjects with no demonstrable MC compared to the levels in subjects with demonstrable MC. Similar relationships, but not reaching significance, were observed between the CC16 and nNO levels and Eos occurrence. The levels of CC16 and nNO did not differ between the allergic and the control groups.
Conclusions
The correlation between nasal CC16 and nNO levels in patients with allergic rhinitis, along with an inverse relationship between their levels and the occurrences of MC in allergic inflammation, may indicate that both biomarkers have anti-inflammatory effects by suppression of cell recruitment. The mechanisms behind these observations warrant further analyses.