01.12.2015 | Research article | Ausgabe 1/2015 Open Access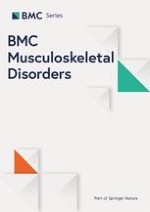 Clinical and radiological features and skeletal sequelae in childhood intra-/juxta-articular versus extra-articular osteoid osteoma
Zeitschrift:
Autoren:

Mi Hyun Song, Won Joon Yoo, Tae-Joon Cho, Chin Youb Chung, Moon Seok Park, Jung-Eun Cheon, In Ho Choi
Wichtige Hinweise
Competing interests
The authors declare that they have no competing interests.
Author's contributions
MHS participated in collection, analysis, and interpretation of the data and drafting/revision of the manuscript as well as provided statistical expertise. WJY participated in the conception and design of the study and revision of the manuscript and takes responsibility for the integrity of the work as a whole. TJC, CYC, MSP, and IHC participated in coordination and helped to draft the manuscript. JEC conceived the study and participated in the selection of figures. All authors read and approved the final manuscript.
Abstract
Background
To compare the clinical and radiological features of intra-/juxta-articular osteoid osteoma and extra-articular osteoid osteoma in skeletally immature patients, paying special attention to the skeletal complications.
Methods
Osteoid osteoma in 34 children (22 boys and 12 girls, mean age 10.4 years) was dichotomized according to the location of the nidus as intra-/juxta-articular (11 children) or extra-articular (23 children). The following features were compared: diagnostic delay, typical symptoms, synovitis and limited range of joint motion, response to treatment, typical radiographic findings, and skeletal complications.
Results
Eight of the 11 children with intra-/juxta-articular osteoid osteoma presented with synovitis in the involved joint, which led to a delayed diagnosis for a median 9.5 months. Pain disappeared in all children with surgical or medical interventions, but at the mean 4.9-year follow-up evaluation, skeletal abnormalities around the joint were noted in 5 children (4 proximal femur and 1 distal humerus) with intra-/juxta-articular osteoid osteoma, 2 of whom required subsequent surgeries for limited hip motion caused by femoroacetabular impingement and limited range of elbow motion, respectively. In contrast, typical clinical and radiological features were observed more often in extra-articular osteoid osteoma, and only 1 child showed overgrowth of the tibia, which did not have clinical significance.
Conclusions
Intra-/juxta-articular osteoid osteomas in growing children exhibit different clinical and radiological features from extra-articular lesions. Skeletal abnormalities mainly develop in intra-/juxta-articular osteoid osteoma, and these may lead to permanent skeletal sequelae.