12.08.2016 | Case Report - Vascular | Ausgabe 10/2016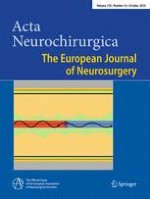 Combined suture and clipping for the reconstruction of a ruptured blister-like aneurysm
Zeitschrift:
Autoren:

Sven R. Kantelhardt, Eleftherios Archavlis, Alf Giese
Wichtige Hinweise
Comments
This is nice description of an ingenious technique which could come in handy in very specific circumstances. There are caveats to this technique, specifically the difficulty and time under temporary clipping to suture the tear. The preferred and fastest method to treat these pseudo aneurysms, is to utilize an encircling clip and to ensure that flow is not compromised as a result [
4
]. However, the authors' methods can come in handy if the encircling clips are not available and methods to place a sling around the vessel not practical. The authors in this report, describe a "shortcut" in which the carotid breach is approximated and not fully repaired, but instead used to facilitate the purchase of clips to fully seal the breach. This is a worthwhile paper and the technique described is a useful addition to our surgical options and can prove useful in instances where other alternatives to repairing the tear, such as with encircling clips, are not available. The authors are to be congratulated for this original contribution.
F. Charbel
Illinois, USA
Abstract
Blister-like aneurysms of the internal carotid artery (ICA) present a severe therapeutical challenge. While several reconstructive techniques are in use in case of acute rupture sacrifice of the parent vessel may be required. We present a combined technique of micro-sutures and clip application to repair the parent vessel in an intraoperatively ruptured blister-like aneurysm. Following temporary trapping of an intraoperatively ruptured 7-mm blister-like aneurysm four 8-0 nylon sutures were applied to adapt the vessel walls and support the branches of subsequently applied mini-clips. The combination of micro-sutures and mini-clips might be a valuable alternative to direct clipping or suturing in some cases with intraoperative rupture of blister-like aneurysms.