02.02.2021 | COVID-19 | Ausgabe 1/2021 Zur Zeit gratis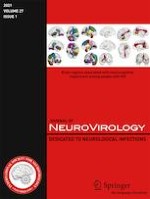 Prevalence and correlates of chronic fatigue syndrome and post-traumatic stress disorder after the outbreak of the COVID-19
Zeitschrift:
Autoren:

Leila Simani, Mahtab Ramezani, Ilad Alavi Darazam, Mastooreh Sagharichi, Mohammad Amin Aalipour, Fatemeh Ghorbani, Hossein Pakdaman
Wichtige Hinweise
Publisher's Note
Springer Nature remains neutral with regard to jurisdictional claims in published maps and institutional affiliations.
Abstract
As the SARS-COV-2 becomes a global pandemic, many researchers have a concern about the long COVID-19 complications. Chronic fatigue syndrome/myalgic encephalomyelitis (CFS/ME) is a persistent, debilitating, and unexplained fatigue disorder. We investigated psychological morbidities such as CFS and post-traumatic stress disorder (PTSD) among survivors of COVID-19 over 6 months. All COVID-19 survivors from the university-affiliated hospital of Tehran, Iran, were assessed 6 months after infection onset by a previously validated questionnaire based on the Fukuda guidelines for CFS/EM and DSM-5 Checklist for PTSD (The Post-traumatic Stress Disorder Checklist for DSM-5 or PCL-5) to determine the presence of stress disorder and chronic fatigue problems. A total of 120 patients were enrolled. The prevalence rate of fatigue symptoms was 17.5%. Twelve (10%) screened positive for chronic idiopathic fatigue (CIF), 6 (5%) for CFS-like with insufficient fatigue syndrome (CFSWIFS), and 3 (2.5%) for CFS. The mean total scores in PCL-5 were 9.27 ± 10.76 (range:0–44), and the prevalence rate of PTSD was 5.8%. There was no significant association after adjusting between CFS and PTSD, gender, comorbidities, and chloroquine phosphate administration. The obtained data revealed the prevalence of CFS among patients with COVID-19, which is almost similar to CFS prevalence in the general population. Moreover, PTSD in patients with COVID-19 is not associated with the increased risk of CFS. Our study suggested that medical institutions should pay attention to the psychological consequences of the COVID-19 outbreak.