01.03.2012 | Original Research | Ausgabe 3/2012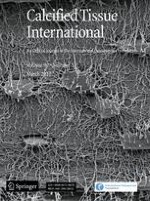 Decreased Bone Mineral Density in Rats Rendered Follicle-Deplete by an Ovotoxic Chemical Correlates with Changes in Follicle-Stimulating Hormone and Inhibin A
Zeitschrift:
Autoren:

A. L. Lukefahr, J. B. Frye, L. E. Wright, S. L. Marion, P. B. Hoyer, J. L. Funk
Wichtige Hinweise
The authors have stated that they have no conflict of interest.
Abstract
Bone loss during perimenopause, an estrogen-sufficient period, correlates with elevated serum follicle-stimulating hormone (FSH) and decreased inhibins A and B. Utilizing a recently described ovotoxin-induced animal model of perimenopause characterized by a prolonged estrogen-replete period of elevated FSH, we examined longitudinal changes in bone mineral density (BMD) and their association with FSH. Additionally, serum inhibin levels were assessed to determine whether elevated FSH occurred secondary to decreased ovarian inhibin production and, if so, whether inhibins also correlated with BMD. BMD of the distal femur was assessed using dual-energy X-ray absorptiometry (DXA) over 19 months in Sprague-Dawley rats treated at 1 month with vehicle or 4-vinylcyclohexene diepoxide (VCD, 80 or 160 mg/kg daily). Serum FSH, inhibins A and B, and 17-ß estradiol (E
2
) were assayed and estrus cyclicity was assessed. VCD caused dose-dependent increases in FSH that exceeded values occurring with natural senescence, hastening the onset and prolonging the duration of persistent estrus, an acyclic but E
2
-replete period. VCD decreased serum inhibins A and B, which were inversely correlated with FSH (
r
2
= 0.30 and 0.12, respectively). In VCD rats, significant decreases in BMD (5–13%) occurred during periods of increased FSH and decreased inhibins, while BMD was unchanged in controls. In skeletally mature rats, FSH (
r
2
= 0.13) and inhibin A (
r
2
= 0.15) correlated with BMD, while inhibin B and E
2
did not. Thus, for the first time, both the hormonal milieu of perimenopause and the association of dynamic perimenopausal changes in FSH and inhibin A with decreased BMD have been reproduced in an animal model.