16.09.2019 | Original article | Ausgabe 5/2019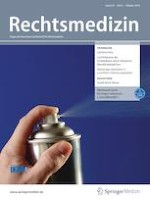 Dental age estimation using degenerative changes in lower premolars in a northern Chinese population
Zeitschrift:
Autoren:

Yu-xia Hou, Mu-jia Li, Andreas Olze, Sven Schmidt, Ronald Schulz, Heidi Pfeiffer, Teng Chen, Yu-cheng Guo, Andreas Schmeling
Wichtige Hinweise
Yu-xia Hou and Mu-jia Li contributed equally to this study.
Abstract
Degenerative dental changes can be closely related to chronological age. In 2012 Olze et al. proposed that several criteria, which were first presented by Gustafson for extracted teeth, can also be applied to orthopantomograms. The present study aimed to verify whether secondary dentin formation, periodontal recession, attrition, and cementum apposition in lower premolars can be used for dental age estimation in Chinese juveniles and young adults. For this purpose, 1300 orthopantomograms of 650 female and 650 male Chinese subjects within the age range of 15–40 years were evaluated. The results showed that when secondary dentin formation reached stage 3 or periodontal recession, attrition and cementum apposition were at stage 2, the completion of the 18th year of life can be proven beyond reasonable doubt; however, only a few individuals in the study population were at these stages. The findings of the present study indicate that degenerative changes involving lower premolars are of limited value for forensic age estimation in Chinese juveniles and young adults.