01.12.2012 | Research | Ausgabe 1/2012 Open Access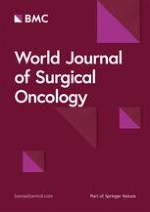 Different distribution of breast ductal carcinoma
in situ

, ductal carcinoma

in situ

with microinvasion, and invasion breast cancer
Zeitschrift:
Autoren:

Zhang Wei, Gao Er-li, Zhou Yi-li, Zhai Qi, Zou Zhang-yong, Guo Gui-long, Chen Guo-rong, Zheng Hua-min, Huang Guan-li, Zhang Xiao-hua
Wichtige Hinweise
Competing interests
There are no financial or non-financial competing interests in our study.
Authors' contributions
ZW and GG-L drafted the manuscript. GE-L and ZY-L participated in the design of the study and performed the statistical analysis. ZQ and ZZ-Y conceived of the study, and participated in its design and coordination, and helped to draft the manuscript. CG-R is the main pathologist for diagnose the specimens and ZH-M is main radiologist for evaluating the imaging of Ultrasound and Mammography. HG-L and ZX-H made up the surgical team involved in the most of patients. All authors read and approved the final manuscript.
Abstract
Background
Breast ductal cancer
in situ
(DCIS) can recur or progress to invasive ductal cancer (IDC), and the interim stage include DCIS with microinvasion (DCIS-Mi). In this article, we attempt to study the study the differences of clinicopathological features, imaging data, and immunohistochemical-based subtypes among DCIS, DCIS-Mi, and IDC.
Methods
In this retrospective study, we attempt to compare the clinicopathological features, immunohistochemical results and imaging data of 866 patients (included 73 DCIS, 72 DCIS-Mi, and 721 IDC).
Results
Patients with DCIS and DCIS-Mi were younger than those with IDC (
P
= 0.007). DCIS and DCIS-Mi often happened in premenopausal women while IDC was opposite (
P
<0.001). The incidence of IDC with node-positive was significantly higher than it in DCIS and DCIS-Mi (
P
<0.001). We also observed that the Her2-positive was more often found in patients with pure DCIS compared to those with DCIS-Mi and DCIS-I (
P
<0.001). There was a significant difference between the four subgroups (Luminal-A, Luminal-B, ERBB2+, Basal-like) from DCIS, DCIS-Mi, and IDC (
P
<0.001). Basal-like patients were fewer than other subgroups in DCIS, DCIS-Mi, and IDC. The incidence of the first performance of ultrasound (catheter winded and nodular mass) and mammography (nodular mass) had significantly difference among patients with DCIS, DCIS-Mi, and IDC (
P
<0.001).
Conclusions
Different clinicopathological, immunohistochemical, and imaging features among DCIS, DCIS-Mi, and IDC indicate that they are distinct entities. A larger sample size is needed for further study.