01.12.2018 | Research article | Ausgabe 1/2018 Open Access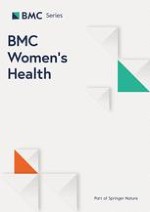 Differentials in health-related quality of life of employed and unemployed women with normal vaginal delivery
Zeitschrift:
Autoren:

Anthonia U. Chinweuba, Ijeoma L. Okoronkwo, Agnes N. Anarado, Noreen E. Agbapuonwu, Ngozi P. Ogbonnaya, Chikaodili N. Ihudiebube-Splendor
Wichtige Hinweise
Electronic supplementary material
Abstract
Background
The combination of child care and domestic work demands on both housewives and the employed (hired) women may impact their health-related quality-of-life. There is paucity of studies to ascertain this. This study investigated the differences in health-related quality of life of employed and unemployed women with normal vaginal delivery and associated socio-demographic variables.
Methods
This longitudinal study was done from March, 2012 to June, 2013. Modified SF-36v2™ health-related quality of life questionnaire was administered to 234 newly delivered women drawn from six selected hospitals in Enugu, Southeast Nigeria at 6, 12 and 18 weeks postpartum. Respondents were reached for data collection through personal contacts initially at the hospitals of delivery, and subsequently by visits to their homes/workplaces or cell-phone calls. Women were asked to indicate how each of 36 items applied to them at each of the three times. Data collection lasted for six calendar months and 17 days (from September 3rd 2012 to 20th March, 2013).
Results
All the women had their best HrQoL at 12 weeks postpartum. Employed women reported lower health-related quality-of-life than the unemployed at the three time-points, the lowest mean score being at 18 weeks postpartum (Mean = 73.9). Multiple comparison of scores of the two groups using Tukey HSD Repeated Mean showed significant variation on the eight subscales of the health-related quality-of-life. Physical functioning (
p
= 0.045), Physical role limitation (
p
= 0.000), bodily pain (p = 0.000), social functioning (p = 0.000) and general health (p = 0.000) were unequal guaranteeing type 1 error. Women with higher education and personal income reported higher health-related quality-of-life (
p
< 0.05). Employed women have more problems with physical health components and are more negatively affected by increasing age except those with higher education and personal income.
Conclusions
Increased responsibilities combined with increasing age and low socio-economic status reduce women's health-related quality-of-life post-partum. The traditionally accepted paid 3 months maternity leave should be elongated by extra months to help women balance their daily work with baby care. Gender sensitive employment opportunities in favour of women are necessary to empower more women economically.