01.12.2017 | Research article | Ausgabe 1/2017 Open Access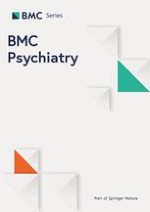 Do some anxiety disorders belong to the prodrome of bipolar disorder? A clinical study combining retrospective and prospective methods to analyse the relationship between anxiety disorder and bipolar disorder from the perspective of biorhythms
Zeitschrift:
Autoren:

Na Du, Ya-ling Zhou, Xu Zhang, Jing Guo, Xue-li Sun
Wichtige Hinweise
Electronic supplementary material
Abstract
Background
In clinical practice, some patients diagnosed with anxiety disorder (AD) may develop bipolar disorder (BD) many years later, and some cases of AD may be cured by the use of mood stabilizers. However, the relationship between AD and BD should be explored further.
Method
To track how many cases of AD turned to BD and to discover the differences between them, we recruited 48 patients diagnosed with BD, who were assigned to the BD group for the retrospective analysis, and we also recruited 186 patients diagnosed with AD at enrolment; this latter group was asked to complete follow-up surveys conducted 3 months, 6 months, 12 months and 18 months after the primary stage of the study. We defined another two groups according to the usage of mood stabilizers, the rates of reduction in scores on the Hamilton Anxiety Scale and Yale-Brown Obsessive Compulsive Scale, and the changes in Clinical Global Impression scores at different follow-up times: the anxiety group and the atypical BD group (who used mood stabilizers to treat AD). All subjects also completed the NEO Five-Factor Inventory and supplied blood samples to be tested for several endocrine indices (TSH, T3, FT3, T4, FT4, ACTH,PTC) and inflammatory cytokines (IL-6, IL-8, IL-10, TNF-α, CRP) at enrolment.
Results
In total, 14 subjects developed BD by the end of the study. One hundred eleven subjects were included in the anxiety group. Sixty-three subjects were assigned to the atypical BD group, and they had similar features to the 48 subjects in the BD group in terms of personality traits, abnormality rates of endocrine indices and levels of inflammatory cytokines. From the anxiety group to the atypical BD group and then the BD group, the age of first onset gradually decreased, while the frequency of onset and the score of suicidal ideation gradually increased. Furthermore, the atypical BD group showed markedly higher levels of TSH, IL-6, TNF-α and CRP than the other two groups.
Conclusions
Some ADs with unique features might belong to the prodromal stage or the atypical presentation of BD, and recognizing these ADs early will economize many medical resources.