09.11.2019 | Original Article | Ausgabe 4/2019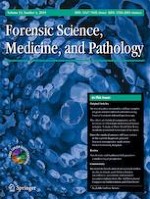 Does the medical autopsy still have a place in the current diagnostic process? A 6-year retrospective study in two French University hospitals
Zeitschrift:
Autoren:

Sarah Humez, Clémence Delteil, Claude Alain Maurage, Julia Torrents, Caroline Capuani, Lucile Tuchtan, Marie-Dominique Piercecchi
Wichtige Hinweise
Publisher's note
Springer Nature remains neutral with regard to jurisdictional claims in published maps and institutional affiliations.
Abstract
Medical autopsies have been in considerable decline for several decades, in France and worldwide. We aimed to determine whether a medical autopsy still currently has a role to play in diagnosis, by analyzing its performance and diagnostic limitations. This dual-centre retrospective descriptive study included all medical autopsies performed in the university hospitals of Lille and Marseille, France, between January 2007 and December 2012. Autopsies of fetuses or stillborn infants, or those related to sudden infant deaths and research protocols were excluded. 412 medical autopsies were included. The male:female ratio was 1.5:1 and mean age was 27.3 years. Half of all autopsies were pediatric. Regarding anatomical region and/or injury mechanism, a clinical diagnosis was suggested in 52.2% of cases, an autopsy diagnosis in 55.6% and a microscopic diagnosis in 81.8%. There was very low agreement between the clinician's suggested diagnosis and the final diagnosis, both for organ specific diseases and cause of death. Agreement was moderate between autopsy diagnoses and microscopic diagnoses for organ specific diseases and low for cause of death. From our findings we concluded that an autopsy associated with microscopic examination was still valuable in diagnosing cause of death. Microscopic examination was indispensable to determine certain causes of death.