01.12.2017 | Research | Ausgabe 1/2017 Open Access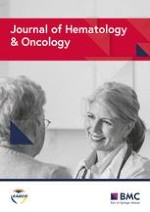 Eculizumab treatment: stochastic occurrence of C3 binding to individual PNH erythrocytes
Zeitschrift:
Autoren:

Michela Sica, Tommaso Rondelli, Patrizia Ricci, Maria De Angioletti, Antonio M. Risitano, Rosario Notaro
Wichtige Hinweise
Electronic supplementary material
The online version of this article (doi:
10.​1186/​s13045-017-0496-x
) contains supplementary material, which is available to authorized users.
Preliminary results of this work have been presented at the XV Meeting of the European Hematology Association (Barcelona, Spain; 2010) and at the XI Congress of the Italian Society of Experimental Hematology (Torino, Italy; 2010).
Abbreviations
CAP
Complement alternative pathway
GPI
Glycosylphosphatidylinositol
PNH
Paroxysmal nocturnal hemoglobinuria
Background
Methods
Patients and samples
Peripheral blood samples were collected from 31 healthy donors and from 31 patients with frank hemolytic PNH. Nine of these patients were on eculizumab, 13 were not and 9 have been studied before and on eculizumab. Signed informed consent was obtained according to an IRB-approved protocol. RBCs and sera were promptly separated from freshly collected samples. RBCs were washed three times in saline just before use. Sera were stored at −80 °C.
In vitro complement activation
The approach we have used derives from the diagnostic Ham test traditionally used to test the susceptibility of PNH RBCs to complement-mediated lysis by activation of the complement alternative pathway (CAP) [
27
–
29
]. Briefly, 2% RBC suspensions were incubated at 37 °C in saline with 84% of pooled ABO-compatible sera from either healthy donors (normal) or from PNH patients on eculizumab (with eculizumab). Sera with eculizumab were collected 1 h after infusion from PNH patients stably treated with eculizumab (900 mg each 2 weeks) and with normal LDH during the last 3 months (in these samples the expected concentration of eculizumab is between 200 and 500 μg/ml: [
12
,
30
] a concentration that is 5–14 times higher than the 35 μg/ml reported as the minimal effective level of eculizumab [
12
]. In selected experiments, eculizumab, obtained from remnants in the infusion lines, was added (400 μg/ml).
CAP was activated by either spontaneous activation (incubation in sealed tubes with 100% atmospheric air) [
31
] or by mild acidification (HCl 0.016 M: the final pH was between 6.8 and 6.5) [
31
–
34
]. All the procedures were performed in sterile conditions. The hemolysis of normal RBCs has been quantified by a direct spectrophotometric method [
35
]. In both experimental models, the lysis of RBCs from healthy donors was less than 2%. The hemolysis of PNH RBCs has been quantified by comparing the relative variation of the percentage of normal RBCs (GPI-positive resistant to complement) with that of PNH RBCs (GPI-negative sensitive to complement) [
36
].
Flow cytometry
C3 binding was assessed with anti-C3d-neoantigen (A250, Quidel, USA) secondary stained with polyclonal rabbit-anti-mouse antibodies (Dako Cytomation, Denmark). In selected experiments, RBCs were stained also with anti-C3b (H11, Serotec), anti-iC3b (A209, Quidel), anti-C3c (MCA2605, Serotec), anti-Bb (A227, Quidel), and the proper secondary polyclonal rabbit-anti-mouse antibodies (Dako Cytomation). PNH RBCs have been identified with anti-CD59 (Mem43, Serotec, UK). Intact and lysed (ghost) RBCs have been identified by physical parameters as previously described [
37
]; in selected experiments, the identity of intact and of ghost RBCs has been confirmed by staining with anti-Glycophorin A moAb (GA-R2, BD Becton Dickinson, NJ, USA).
Reticulocytes have been stained with the polymethine dye (Ret Search II, Sysmex) that, upon excitation at 633 nm, emits between 650 and 670 nm. Briefly, 1 volume of RBC suspension was mixed in 4 volumes of "Ret Search" dilution buffer (Sysmex) and stained by adding the polymethine dye just before flow cytometry analysis [
38
].
Flow cytometry has been performed with either FACSCanto (BD) or Accuri C6 (BD). Fluorescent-activated cell sorting (FACS) has been performed with FACSAria III (BD).
Statistical analysis
Statistical analysis was performed using non-parametric tests: Wilcoxon signed paired and Friedman rank sum tests as suitable. Statistical significance was accepted for any
P <
 0.05.
Results
Analysis of C3 fragments bound to PNH red blood cells in patients on eculizumab
In most of the PNH patients undergoing eculizumab treatment, there is a relative and an absolute increase of PNH RBCs because complement blockade prevents their complement-mediated lysis. In parallel, the percentage of PNH RBCs with C3 binding increases progressively from the time of starting eculizumab treatment (a representative patient in Fig.
1a
), until a relatively stable plateau is reached after 10–12 weeks: 5.8 ± 3.4% at 1 week (
n
 = 8), 16.9 ± 13,3% at 4–5 weeks (
n
 = 8), 20.5 ± 6.6% at 10–12 weeks (
n
 = 8). In a series of 41 PNH patients on stable eculizumab treatment, we have previously observed 27.2 ± 18.7% of C3+ PNH RBCs [
23
]. PNH RBCs with bound C3 were stained by a moAb that recognizes a specific C3d neo-epitope [
39
], but not by an anti-C3b (unable to bind the C3d fragment) and an anti-iC3b (Fig.
1b
); in addition, these C3 bound PNH RBCs were not stained by anti-Bb and anti-C3c antibodies (Additional file
1
: Figure S1).
×
Modeling in vitro the in vivo binding of C3 to PNH red blood cells
C3 binding to young (reticulocytes) and to mature PNH red blood cells
Since in vivo not all PNH RBCs are bound with C3, one may surmise that this could be due to intrinsic difference between the PNH RBCs that become C3+ and those that remain C3−. For instance, it could be that young RBCs have some extra mechanism for complement regulation, which would inhibit C3 binding and might be lost with aging: i.e., the surface density of glycophorin A [
47
], CD44, CD147 [
48
], and CR1 [
49
] decreases with RBC aging. In order to test this hypothesis, we have compared the proportion of C3+ cells among young (reticulocytes) and mature (non-reticulocytes) PNH RBCs. In samples obtained ex vivo from patients on eculizumab (
n
 = 18), the proportion of C3+ PNH RBCs was much lower in reticulocytes than in non-reticulocytes (10.5% vs. 27.7%:
P <
 0.0025. Fig.
5a
). Reticulocytes mature into RBCs within few hours also in vitro [
50
]; thus, we have studied C3 binding only after complement activation by serum acidification. In apparent contrast with what we have observed in vivo in patients on eculizumab, in untreated PNH patients (
n
 = 14) a similar proportion of C3+ PNH RBCs was observed among both reticulocytes and non-reticulocytes (Fig.
5b
) after in vitro incubation with acidified sera with eculizumab (Fig.
5c
: 45.6 vs. 37.1%).
×
We have obtained direct confirmation of this scenario in 6 patients, which were tested in vitro before starting eculizumab (C3+ PNH reticulocytes and non-reticulocytes were 59 ± 21% and 53 ± 25%, respectively
)
, and re-tested in vivo after 4–8 months of eculizumab treatment (C3+ PNH reticulocytes and non-reticulocytes were 8 ± 5% and 23 ± 15%, respectively). In all these experiments, C3 binding has never been observed on non-PNH (GPI-positive) reticulocytes (data not shown).
Discussion
These findings support a stochastic model in which the longer each individual RBC circulates, the higher the probability to be exposed in specific districts of the bloodstream to levels of complement activation that exceeds the threshold able to trigger C3 binding: for this reason in patients on eculizumab in vivo, the percentage of C3+ cells is much lower in reticulocytes (10.5%) than in mature RBCs (27.7%).
Conclusions
This in vitro study helps in understanding what happens in vivo in PNH patients on eculizumab and it paves the way for alternative strategies to overcome the clinical consequences of C3 binding in PNH patients who already benefit, completely or partially, from C5 blockade [
34
,
57
]. For example, since the stochastic nature and the
all-or-nothing
characteristic of this process, it is possible to hypothesize that in the context of C5 blockade, the prevention of C3 binding would not require a complete inhibition/full blockade of C3 convertase activity. Indeed, even a partial inhibition of C3 convertase activity, just below the threshold that triggers irreversible C3 binding, might result in meaningful clinical benefit with less concerns about the possible infectious risk associated with a complete disabling of the complement pathway.
Acknowledgements
We thank Alessandra Fanelli and Roberto Caporale for helpful technical advises. We thank Luca Boni for statistical analysis advices. We thank Lucio Luzzatto for much support, for the helpful suggestions, and the fruitful discussions. Last but not least, we thank the patients, their families, and the "Associazione Italiana Emoglobinuria Parossistica Notturna" for their warm support.
Funding
This study has been funded in part by a start-up grant from the "Istituto Toscano Tumori" (RN).
Availability of data and materials
All data generated and analyzed during this study are included in this published article and its Additional file.
Authors' contributions
MS participated in designing and performing the research, in analyzing data and writing the paper; TR, PR, and MD participated in performing the research; AMR and RN designed the research, analyzed data and wrote the paper. All the authors critically revised the paper and contributed to the preparation of the final version. All authors read and approved the final manuscript.
Competing interests
AMR has served as consultant for and has received research funding and lecture fee from Alexion Pharmaceuticals; AMR has also received research funding from Alnylam, Rapharma, and Novartis. The remaining authors declare that they have no competing interests.
Consent for publication
Not applicable.
Ethics approval and consent to participate
The study was reviewed and approved by the Ethics Committees of AOU Careggi (Firenze, Italy) and of Federico II University (Naples, Italy). It has been performed according the Declaration of Helsinki on ethical principles for medical research involving human subjects. A written signed informed consent was obtained from all the subjects involved in the study.
Publisher's Note
Springer Nature remains neutral with regard to jurisdictional claims in published maps and institutional affiliations.
Open Access
This article is distributed under the terms of the Creative Commons Attribution 4.0 International License (
http://​creativecommons.​org/​licenses/​by/​4.​0/​
), which permits unrestricted use, distribution, and reproduction in any medium, provided you give appropriate credit to the original author(s) and the source, provide a link to the Creative Commons license, and indicate if changes were made. The Creative Commons Public Domain Dedication waiver (
http://​creativecommons.​org/​publicdomain/​zero/​1.​0/​
) applies to the data made available in this article, unless otherwise stated.