01.12.2018 | Research article | Ausgabe 1/2018 Open Access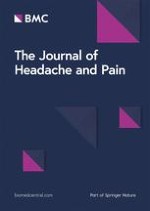 Effect of a calcitonin gene-related peptide-binding L-RNA aptamer on neuronal activity in the rat spinal trigeminal nucleus
Zeitschrift:
Autoren:

Michael J. M. Fischer, Jakob Schmidt, Stanislav Koulchitsky, Sven Klussmann, Axel Vater, Karl Messlinger
Abstract
Background
Calcitonin gene-related peptide (CGRP) plays a major role in the pathogenesis of migraine and other primary headaches. Spinal trigeminal neurons integrate nociceptive afferent input from trigeminal tissues including intracranial afferents, and their activity is thought to reflect facial pain and headache in man. CGRP receptor inhibitors and anti-CGRP antibodies have been demonstrated to be therapeutically effective in migraine. In parallel, CGRP receptor inhibition has been shown to lower spinal trigeminal neuron activity in animal models of meningeal nociception.
Methods
In a rat model of meningeal nociception, single cell activity of neurons in the spinal trigeminal nucleus with meningeal afferent input was recorded to test a further pharmacological approach, scavenging CGRP with a CGRP-binding
l
-RNA oligonucleotide, the
l
-aptamer NOX-C89. Cumulative ascending doses of NOX-C89 were intravenously infused.
Results
Spontaneous activity of spinal trigeminal neurons did not change after 0.05 mg/kg NOX-C89, however, after additional infusion of 0.5 mg/kg and 5 mg/kg NOX-C89, spontaneous activity was dose-dependently reduced. Identical doses of a control
l
-aptamer had no effect. This pharmacological effect of NOX-C89 was observed 10–25 min after infusion, but no difference was detected in the period 0–5 min. For comparison, the previously investigated CGRP receptor antagonist olcegepant had reduced activity within 5 min after infusion. Alongside the reduced spontaneous activity, after infusion of NOX-C89 the heat-induced neuronal activity was abolished.
Conclusions
Scavenging CGRP by mirror-image RNA aptamers provides further evidence that this approach can be used to control spinal trigeminal activity.