01.12.2015 | Research article | Ausgabe 1/2015 Open Access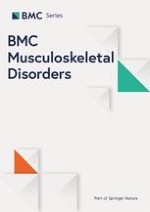 Effect of sex and fatigue on single leg squat kinematics in healthy young adults
Zeitschrift:
Autoren:

Benjamin K. Weeks, Christopher P. Carty, Sean A. Horan
Wichtige Hinweise
Competing interests
The authors declare that they have no competing interests.
Authors' contributions
BW and SH designed the study. BW, CC, and SH collected the data. SH and CC processed and managed the data. BW and SH performed the statistical analyses and were in charge of data interpretation. BW wrote the draft manuscript. All authors participated in manuscript revisions and approved the final version.
Authors' information
Not applicable.
Abstract
Background
The single-leg squat (SLS) test is widely used in screening for musculoskeletal injury risk. Little is known, however, of lower limb, pelvis, and trunk kinematics of SLS performance or the effect of sex and fatigue. Our aim was to determine sex differences and the influence of fatigue on SLS kinematics in healthy young adults.
Methods
We recruited 60 healthy men and women between the ages of 20 and 40 years. Three-dimensional kinematic data was collected for SLSs with a ten-camera VICON motion analysis system (Oxford Metrics, UK) before and after a lower limb fatiguing exercise regime. One-way ANCOVA was used to make sex comparisons of kinematic parameters and repeated measures ANOVA was used to determine the effect of fatigue and the interaction with sex.
Results
30 men (25.6 ± 4.8 years) and 30 women (25.1 ± 3.8 years) volunteered to participate. Peak pelvic rotation (3.9 ± 4.1 vs. 7.7 ± 6.2 deg,
P
 = 0.03), peak hip internal rotation (−1.8 ± 5.7 vs. 3.0 ± 7.3 deg,
P
 = 0.02), hip adduction range (11.7 ± 4.8 vs. 18.3 ± 6.7 deg,
P
 = 0.004), and hip rotation range (10.7 ± 3.9 vs. 13.0 ± 4.2 deg,
P
 = 0.04) were smaller for men than for women. Likewise, distance of mediolateral knee motion (180 ± 51 vs. 227 ± 50 mm,
P
 = 0.001) was shorter for men than for women. The kinematic response to fatigue was an increase in trunk flexion, lateral flexion and rotation, an increase in pelvic tilt, obliquity and rotation, and an increase in hip flexion and adduction range (
P
≤0.05).
Conclusions
Sex differences in SLS kinematics appear to apply only at the hip, knee, and pelvis and not at the trunk. Fatiguing exercise, however, produces changes at the trunk and pelvis with little effect on the knee.