01.12.2015 | Research article | Ausgabe 1/2015 Open Access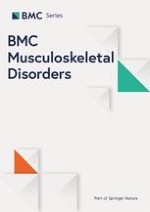 Effects of BIS076 in a model of osteoarthritis induced by anterior cruciate ligament transection in ovariectomised rats
Zeitschrift:
Autoren:

María Luisa Ferrándiz, María Carmen Terencio, María Carmen Carceller, Ramón Ruhí, Pere Dalmau, Josep Vergés, Eulàlia Montell, Anna Torrent, María José Alcaraz
Wichtige Hinweise
Competing interests
A.T., P.D., R.R., E.M. and J.V. are employed by Bioibérica S.A.
Authors' contributions
A.T., P.D., R.R., E.M, J.V., M.L.F., M.J.A. conceived and designed the experiments. M.L.F., M.C.T., M.C.C. performed the experiments. M.L.F., M.C.T., M.J.A. analysed the data and wrote the paper. All authors read and approved the final manuscript.
Abbreviations
ACLT
Anterior cruciate ligament transection
COMP
Cartilage oligomeric matrix protein
CTX-II
C-Telopeptide of type II collagen
OARSI
Osteoarthritis research society international
PINP
N-terminal propeptide of type I procollagen
RANKL
Receptor activator of nuclear factor κB ligand
TRAP
Tartrate-resistant acid phosphatase.
Background
Methods
Animals
Female Wistar rats (9 weeks old) were obtained from Janvier (Le Genest Saint Isle, France). The animals were maintained at the animal house of the School of Pharmacy, University of Valencia, Spain, with controlled temperature (21 ± 2°C) and on a 12 h dark–light cycle. Water and food were provided
ad libitum
. All studies were performed in accordance with European Union regulations for the handling and use of laboratory animals. The protocols were approved by the institutional Animal Care and Use Committee (University of Valencia, Spain).
Ovariectomy and ACLT
Female Wistar rats (180–200 g body weight, 10 weeks old, n = 15 rats/group) were used in this study. Ovariectomy was performed (week 0) and 2 weeks after (week 2) ACLT was performed via an incision on the medial aspect of the right knee joint capsule. All surgical procedures were carried out under deep anaesthesia with isoflurane (1.5%) which was followed by the subcutaneous injection of butorphanol (2 mg/kg). A group of animals (Sham) underwent sham ovariectomy at week 0 followed by sham ACLT at week 2. Another group of rats (Ovx) underwent ovariectomy at week 0 followed by sham ACLT at week 2. Animals were weighed every two days throughout the experiment. There were no significant differences in body weight between groups during the study (data not shown).
Drug treatment
Rats subjected to ovariectomy + ACLT were divided into three groups: Control and two treatment groups (T1 and T2). BIS076, a preparation of a natural extract from porcine cartilage (containing 55.5% type II collagen and 21.3% glycosaminoglycans, mainly chondroitin sulfate) + hydroxyapatite + vitamin D
3
, was provided by Bioibérica S.A. (Barcelona, Spain). The composition of BIS076 is indicated in Table
1
. BIS076 was administered daily (oral gavage of a dispersion in water) at two doses (T1: 163.5 mg/kg and T2: 245 mg/kg) from week 0 until week 12 after ovariectomy. T1 and T2 correspond approximately to daily doses in humans of 1,402 and 2,102 mg, respectively. The amount of vitamin D
3
in T1 and T2 corresponds to 200 IU in humans. Sham, Ovx and ovariectomy + ACLT (Control) groups, received the same volume of vehicle (water). After week 12, animals were sacrificed. Previously, they were anesthetized with isoflurane and blood was collected by cardiac puncture. All determinations were performed at this time point.
| | T1 (low dose) | T2 (high dose) |
| --- | --- | --- |
| Porcine cartilage extract | 600 mg | 900 mg |
| Hydroxyapatite | 800 mg | 1,200 mg |
| Vitamin D 3 | 2 mg | 2 mg |
Histopathology
Knee joints were removed and fixed in 4% paraformaldehyde in phosphate-buffered saline solution. Samples were decalcified in 10% EDTA, dehydrated in graded ethanol, cleared in toluene and embedded in paraffin. Serial sections were cut (7 μm) and mounted on SuperFrost glass slides (Menzel-Gläser, Braunschweig, Germany). Sections were deparaffinised in xylol, rehydrated in graded ethanol and stained with haematoxylin and eosin (general morphology) or safranin O (proteoglycan). The sections were mounted on a DPX medium (Panreac, Barcelona, Spain) and examined under a light microscope (Nikon Eclipse E800, Izasa S.A., Valencia, Spain) with 10x objective lens and a Nikon Digital Camera DXM1200 using Nikon ACT-1 software. Histopathological grading of cartilage degradation was performed on haematoxylin-eosin and safranin O stained sections by two independent, blinded observers in accordance with the Osteoarthritis Research Society International (OARSI) histopathology grading and staging system [
22
]. Synovitis was scored according to Krenn
et al
. [
23
].
X-ray micro-computed tomography (μCT)
The hind paws were kept wrapped in gauze soaked in 0.9% NaCl at −20°C until analysis by μCT. Samples were analysed with a SkyScan 1172 μCT unit (Bruker microCT NV, Kontich, Belgium). Three-dimensional trabecular micro-architecture was analysed at the metaphysis and epiphysis of the tibia. Samples were imaged with an X-ray tube voltage of 50 kV, current of 200 μA, rotation step of 0.40°, at a scanning voxel size of 5.5 μm and with the use of an aluminium filter (0.5 mm in thickness). The scanning total angular rotation was 185° with an angular increment of 0.4°. Datasets were reconstructed using cone-beam reconstruction software (Skyscan NRecom) based on the Feldkamp algorithm [
24
] and segmented into binary images using adaptive local thresholding. Every pixel of the reconstructed 8-bit BMP images has a colour or grey value between 0 (black) and 255 (white). Morphometric indices were determined from the microtomographic datasets (integrated over a volume of interest, VOI) using direct 3D morphometry. Bone regions were obtained by free drawing regions of interest and analyzed using the commercial software provided with the equipment (SkyScan™ CT-analyzer software, version 1.7.0). For trabecular bone analysis at the metaphysis, a VOI was selected starting at a distance of 1.00 mm from the growth plate of tibial proximal metaphysis and extending a further longitudinal distance of 4.00 mm in the distal direction excluding cortical bone. For subchondral bone analysis, a VOI was selected between the subchondral plate and the growth plate of the proximal metaphysis. Thresholding was applied to the images to segment the trabecular bone from the background and the same threshold setting was used for all the samples. Morphometric indices were determined from the microtomographic data sets (integrated over a VOI) using direct 3D morphometry. Total volume of VOI (tissue volume; TV; mm
3
) and trabecular bone volume (BV; mm
3
) were calculated based on the hexahedral marching cubes volume model of the VOI. Trabecular bone volume (BV/TV; %) was directly calculated. Trabecular thickness (Tb.Th; mm), trabecular separation (TbS; mm) and trabecular number (Tb.N; 1/mm) were measured directly on 3D images. Measurements of Tb.Th were calibrated by scanning and analyzing three aluminum foils with thicknesses of 50, 125 and 250 μm. The non-metric indices, such as trabecular bone pattern factor (Tb.Pf; 1/mm) were also calculated using the direct 3D model.
Determination of inflammatory mediators
The knees were amputated, skin was dissected and the rest of tissue was immediately frozen in liquid nitrogen and pulverized in a Freezer/Mill 6750 (Spex SamplePrep, Metuchen, NJ, USA). The powder was extracted with 2 ml of A buffer pH 7.4 [10 mM 4-(hydroxyethyl)-1-piperazine-ethane-sulfonic acid (HEPES, pH 8), 1 mM EDTA, 1 mM ethylene glycol bis(β-aminoethylether)-N,N,N',N'-tetraacetic acid (EGTA), 10 mM KCl, 1 mM dithiothreitol, 5 mM NaF, 1 mM Na
3
VO
4
, 1 μg/ml leupeptin, 0.1 μg/ml aprotinin and 0.5 mM phenylmethylsulfonyl fluoride]. After the first centrifugation at 1,200 g (10 min at 4°C), supernatants were collected, centrifuged at 9,000 g (15 min at 4°C) and used to measure cytokines by ELISA. Interleukin(IL)-1β and tumour necrosis factor-α (TNFα) were measured by using the kits from R&D Systems (Minneapolis, MN, USA) with a sensitivity of 5.0 pg/ml, and IL-6 and IL-17A with the kits from eBioscience (San Diego, CA, USA) with a sensitivity of 12.0 and 1.0 pg/ml, respectively. Prostaglandin E
2
(PGE
2
) was determined by radioimmunoassay [
25
].
Determination of serum biomarkers
Serum was used for the determination by ELISA of C-telopeptide of type II collagen (CTX-II, serum pre-clinical Cartilaps, Nordic Biosciences, Herlev, Denmark, sensitivity of 6.3 pg/ml), cartilage oligomeric matrix protein (COMP, MD Biosciences, Zürich, Switzerland, sensitivity <0.2 U/l), matrix metalloproteinase (MMP)-3 (R&D Systems, sensitivity of 19.0 pg/ml), N-terminal propeptide of type I procollagen (PINP, IDS Inc., Boldon, UK, sensitivity of 0.7 ng/ml) and tartrate-resistant acid phosphatase (TRAP)-5b (sensitivity of 0.1 U/l). Serum levels of osteocalcin (OC), osteoprotegerin (OPG) and receptor activator of nuclear factor κB ligand (RANKL) were determined by luminex, with sensitivity of 7.0, 2.3 and 3.3 pg/ml, respectively (Millipore Corporation, Billerica, MA, USA). Alkaline phosphatase (ALP) levels in serum were determined as previously described [
26
].
Statistical analysis
The results are presented as mean ± standard deviation (SD), n: number of animals. The level of statistical significance was determined by using one-way analysis of variance (ANOVA) followed by Bonferroni's test. Scoring was analyzed by a non-parametric test (Kruskal-Wallis followed by Dunn's post-test).
Results
Discussion
Conclusions
This study has demonstrated that BIS076 significantly reduces the severity of structural changes in joint tissues, down-regulates the inflammatory response and improves metaphyseal bone density and micro-architecture in a model of OA induced by ACLT in ovariectomised rats. These findings suggest that BIS076 is a new promising and effective formulation for OA and could have a potential role in bone protection during treatment.
Acknowledgements
The present study was supported by grants from Bioibérica S.A. (348/2010) and Spanish Ministerio de Economía y Competitividad, ISCIII, FEDER (RETICEF RD12/0043/0013). The funding sources had no role in the conduct of the study; collection, management, analysis, interpretation of the data; and preparation of the manuscript. The authors thank Ms. Anna Blanco for her technical assistance.
Competing interests
A.T., P.D., R.R., E.M. and J.V. are employed by Bioibérica S.A.
Authors' contributions
A.T., P.D., R.R., E.M, J.V., M.L.F., M.J.A. conceived and designed the experiments. M.L.F., M.C.T., M.C.C. performed the experiments. M.L.F., M.C.T., M.J.A. analysed the data and wrote the paper. All authors read and approved the final manuscript.