01.12.2014 | Fertility Preservation | Ausgabe 12/2014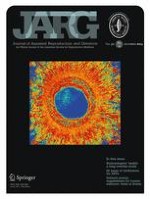 Effects of neutral red assisted viability assessment on the cryotolerance of isolated bovine preantral follicles
Zeitschrift:
Autoren:

A. Langbeen, E.P.A. Jorssen, N. Granata, E. Fransen, J.L.M.R. Leroy, P.E.J. Bols
Wichtige Hinweise
Capsule
Applied at a concentration of 15 μg/ml for 30 minutes, Neutral Red is proposed as a non-invasive viability assessment tool for isolated bovine preantral follicles, without compromising follicle cryotolerance.
Abstract
Purpose
Fertility preservation strategies warrant non-invasive viability assessment of preantral follicles (PAF) such as staining with Neutral Red (NR) that is incorporated by viable follicles. To optimize the procedure, we firstly determined the lowest concentration and shortest exposure time needed for optimal viability screening of isolated bovine PAF. Secondly, we combined this protocol to a vitrification procedure to assess cryotolerance of the stained follicles.
Methods
Isolated PAF (900, divided over 6 replicates) were cultured in DMEM/Ham's F12 (Culture Medium - Cm) for 4 days (38.5 °C, 5 % CO2). On D0, D2 and D4, follicles were stained, by adding NR medium (NRm = Cm with different concentrations NR) after which viability was assessed by counting stained/non-stained PAF every 30 min for a period of 2 h.
Results
Following a binary logistic regression analysis with staining as a result (yes/no) versus log-concentration, a probability model could be fitted, indicating that the proportion of stained follicles remained stable after 30 min when 15 μg/ml NR was used, without compromising follicular health and viability. Consequently, using this protocol, no significant effect of staining prior to vitrification, was found on PAF viability immediately after warming or following 4 days of culture.
Conclusions
In conclusion, we propose NR staining as a non-invasive, non-detrimental viability assessment tool for PAF, when applied at 15 μg/ml for 30 min, being perfectly compatible with PAF vitrification.