01.12.2017 | Research | Ausgabe 1/2017 Open Access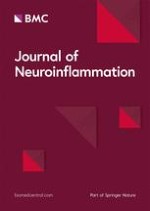 Elevated microRNA-129-5p level ameliorates neuroinflammation and blood-spinal cord barrier damage after ischemia-reperfusion by inhibiting HMGB1 and the TLR3-cytokine pathway
Zeitschrift:
Autoren:

Xiao-Qian Li, Feng-Shou Chen, Wen-Fei Tan, Bo Fang, Zai-Li Zhang, Hong Ma
Abstract
Background
Ischemia-reperfusion (IR) affects microRNA (miR) expression and causes substantial inflammation. Multiple roles of the tumor suppressor miR-129-5p in cerebral IR have recently been reported, but its functions in the spinal cord are unclear. Here, we investigated the role of miR-129-5p after spinal cord IR, particularly in regulating high-mobility group box-1 (HMGB1) and the Toll-like receptor (TLR)-3 pathway.
Methods
Ischemia was induced via 5-min occlusion of the aortic arch. The relationship between miR-129-5p and HMGB1 was elucidated via RT-PCR, western blotting, and luciferase assays. The cellular distribution of HMGB1 was determined via double immunofluorescence. The effect of miR-129-5p on the expression of HMGB1, TLR3, and downstream cytokines was evaluated using synthetic miRs, rHMGB1, and the TLR3 agonist Poly(I:C). Blood-spinal cord barrier (BSCB) permeability was examined by measuring Evans blue (EB) dye extravasation and the water content.
Results
The temporal miR-129-5p and HMGB1 expression profiles and luciferase assay results indicated that miR-129-5p targeted HMGB1. Compared with the Sham group, the IR group had higher HMGB1 immunoreactivity, which was primarily distributed in neurons and microglia. Intrathecal injection of the miR-129-5p mimic significantly decreased the HMGB1, TLR3, interleukin (IL)-1β and tumor necrosis factor (TNF)-α levels and the double-labeled cell count 48 h post-surgery, whereas rHMGB1 and Poly(I:C) reversed these effects. Injection of miR-129-5p mimic preserved motor function and prevented BSCB leakage based on increased Basso Mouse Scale scores and decreased EB extravasation and water content, whereas injection rHMGB1 and Poly(I:C) aggravated these injuries.
Conclusions
Increasing miR-129-5p levels protect against IR by ameliorating inflammation-induced neuronal and BCSB damage by inhibiting HMGB1 and TLR3-associated cytokines.