12.07.2018 | Minimally Invasive Gynecologic Surgery (A Yunker, Section Editor) | Ausgabe 3/2018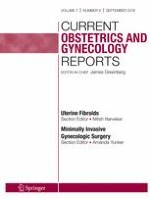 Enhanced Recovery after Surgery (ERAS) in Gynecologic Surgery—A Review
Zeitschrift:
Autoren:

Ashley Moon, Abhilasha Tangada, Vaagn Andikyan, Linus Chuang
Wichtige Hinweise
This article is part of the Topical Collection on
Minimally Invasive Gynecologic Surgery
Abstract
Purpose of Review
The purpose of this review is to summarize the newly published guidelines on enhanced recovery after surgery (ERAS) in gynecologic oncology and discuss recent studies evaluating the outcomes of ERAS implementation in general gynecology and gynecologic oncology.
Recent Findings
ERAS guidelines for gynecologic surgery include preoperative diet, preoperative education, multimodal analgesia, early postoperative feeding, early mobilization and urinary catheter removal, avoidance of mechanical bowel preparation and drains, maintenance of normothermia, and minimal fluid shifts. The studies evaluated in this update include mostly retrospective observational studies and few randomized controlled trials. The primary outcome of the majority of studies, length of stay, was found to be less after ERAS implementation than prior to implementation. Secondary outcomes such as rates of readmission, mortality, and postoperative complications yielded mixed results; however, most differences were not statistically significant. Hospital costs also decreased after ERAS implementation, but the cost differences were only statistically significant in half of the studies with a single dissenting study.
Summary
Implementation of ERAS protocols in gynecologic surgery is becoming ubiquitous as more evidence demonstrates improved patient outcomes and decreased healthcare costs. However, the majority of studies evaluating the efficacy of ERAS protocols are retrospective studies. Now that a standardized set of enhanced recovery guidelines in gynecologic oncology have been published, more institutions will hopefully begin to implement ERAS programs. Future research should subsequently include prospective, randomized controlled trials to validate the benefits concluded from studies based on historical data.