12.05.2017 | Laboratory Investigation | Ausgabe 3/2017 Open Access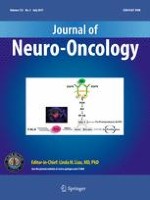 Epithelial growth factor receptor expression influences 5-ALA induced glioblastoma fluorescence
Zeitschrift:
Autoren:

Andrea O. Fontana, Deborah Piffaretti, Francesco Marchi, Floriana Burgio, Ana Bela Faia-Torres, Paolo Paganetti, Sandra Pinton, Uwe Pieles, Michael Reinert
Wichtige Hinweise
Electronic supplementary material
The online version of this article (doi:
10.​1007/​s11060-017-2474-0
) contains supplementary material, which is available to authorized users.
Abstract
The extent of 5-aminolevulinic acid (5-ALA) guided tumor resection has a determining impact in high-grade glioma and glioblastoma surgery. Yet the intensity of the 5-ALA induced fluorescence may vary within the tumor. We aimed to correlate 5-ALA induced fluorescence with the expression of epithelial growth factor receptor (EGFR) and its constitutively active version EGFRvIII in different glioblastoma (GBM) cell lines. To elucidate the role of EGFR in the metabolism of 5-ALA in GBM cell lines with variable EGFR expression status, we analyzed the activation of EGFR by its primary ligand EGF, and its downstream effect on Heme oxygenase-1 (HO-1), a key enzyme regulating the metabolism of Protoporphyrin IX (PpIX), the fluorescent metabolite of 5-ALA. Effects of direct pharmacological inhibition by Tin(IV)-Protoporphyrin (SnPP) or gene knockdown by small interfering RNA (siRNA) on HO-1 enzyme were analyzed in respect to 5-ALA induced fluorescence. Furthermore, inhibition of EGFR by Gefitinib was tested. A significant difference in 5-ALA induced fluorescence was obtained in U87MG (low EGFR expression) and LN229EGFR cells (EGFR overexpression) compared to BS153 (EGFR overexpression/EGFRvIII+). Treatment of U87MG and LN229EGFR cells with EGF significantly reduced cellular fluorescence, by promoting HO-1 transcription and expression in a concentration-dependent manner. This effect could be reversed by EGFR-specific siRNA treatment, which reduced protein expression of about 80% in U87MG. Remarkably, inhibition of HO-1 activity by SnPP or reduction of HO-1 protein levels by siHO-1 treatment restored fluorescence in all cell lines, independently of EGFR quantitative and qualitative expression. Gefitinib treatment was able to restore fluorescence after EGF stimulation in U87MG cells but not in BS153 cells, overexpressing EGFR/EGFRvIII. In GBM cell lines, 5-ALA induced fluorescence is variable and influenced by EGF-induced downstream activation of HO-1. HO-1 protein expression was identified as a negative regulator of 5-ALA induced fluorescence in GBM cells. We further propose that co-expression of EGFRvIII but not quantitative EGFR expression influence HO-1 activity and therefore cellular fluorescence.