13.02.2018 | Clinical trial | Ausgabe 3/2018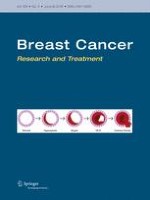 Evaluation of [89Zr]trastuzumab-PET/CT in differentiating HER2-positive from HER2-negative breast cancer
Zeitschrift:
Autoren:

Farrokh Dehdashti, Ningying Wu, Ron Bose, Michael J. Naughton, Cynthia X. Ma, Bernadette V. Marquez-Nostra, Philipp Diebolder, Cedric Mpoy, Buck E. Rogers, Suzanne E. Lapi, Richard Laforest, Barry A. Siegel
Abstract
Purpose
To evaluate whether tumor uptake of [89Zr]trastuzumab can distinguish HER2-positive from HER2-negative breast cancer.
Methods
Women with HER2-positive (
n
= 34) and HER2-negative (
n
= 16) breast cancer underwent PET/CT 5 ± 2 days following [
89
Zr]trastuzumab administration. HER2 status was determined based on immunohistochemistry and/or fluorescence in situ hybridization of primary or metastatic/recurrent tumor. Tumor [
89
Zr]trastuzumab uptake was assessed qualitatively and semiquantitatively as maximum standardized uptake value (SUV
max
), and correlated with HER2 status. Additionally, intrapatient heterogeneity of [
89
Zr]trastuzumab uptake was evaluated.
Results
On a per-patient basis, [
89
Zr]trastuzumab-PET/CT was positive in 30/34 (88.2%) HER2-positive and negative in 15/16 (93.7%) HER2-negative patients. Considering all lesions, the SUV
max
was not significantly different in patients with HER2-positive versus HER2-negative disease (
p
= 0.06). The same was true of when only hepatic lesions were evaluated (
p
= 0.42). However, after excluding hepatic lesions, tumor SUV
max
was significantly higher in HER2-positive compared to HER2-negative patients (
p
= 0.003). A cutoff SUV
max
of 3.2, determined by ROC analysis, demonstrated positive-predictive value of 83.3% (95% CI 65.3%, 94.4%), sensitivity of 75.8% (57.7%, 88.9%), negative-predictive value of 50% (24.7%, 75.3%), and specificity of 61.5% (95% 31.6%, 86.1%) for differentiating HER2-positive from HER2-negative lesions. There was intrapatient heterogeneity of [
89
Zr]trastuzumab uptake in 20% of patients with multiple lesions.
Conclusions
[89Zr]trastuzumab has the potential to characterize the HER2 status of the complete tumor burden in patients with breast cancer, thus obviating repeat or multiple tissue sampling to assess intrapatient heterogeneity of HER2 status.