25.08.2018 | Original Article | Ausgabe 1/2019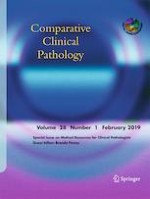 Evaluation of leukocyte esterase test strips for rapid diagnosis of subclinical mastitis in dairy cows
Zeitschrift:
Autoren:

Abdolah Mirzaei, Amirarsalan Khorsand, Abolfazl Hajibemani, Hassan Sharifiyazdi
Abstract
Subclinical mastitis is difficult to detect because it has no visible indications and requires special tests to be detected. Therefore, an untimely and precise diagnosis of subclinical mastitis has been suggested. The purpose of this paper was to estimate the performance of the Analyticon reagent strip test application for the diagnosis of subclinical mastitis as a cow-side test. Milk samples from 111 dairy cows were collected and the leukocyte esterase (LE) test was performed with the reagent strip test. Leukocyte esterase activity was estimated following 10 (LE10) and 15 (LE15) min. Also, milk somatic cell count (SCC) obtained by an automated Fossomatic machine was considered as the gold standard for diagnosing subclinical mastitis. The specificity (Sp), sensitivity (Se), positive likelihood ratio (+LR), negative likelihood ratio (−LR), area under the receiver operating curve (AUC), and kappa coefficient (
κ
) were determined. The 75.7% (84/111) milk samples with SCC ≥ 200,000/mL were considered as the subclinical mastitis milk. A strong statistically significant correlation was found between SCC, LE test marker, and SCC scoring (0–3) in all milk samples. Based on the cutoff point, the LE15 test had Se = 80%, Sp = 100%, +LR = ∞, and −LR = 0.20. There was a very close relation between LE15 and SCC test with a kappa coefficient of 0.70 (
P
 < 0.0001). Also, according to the cutoff point of 0.5, the LE10 test had Se = 64%, Sp = 100%, +LR = ∞, and −LR = 0.36. In addition, there was a very close relation between LE10 and SCC tests with a kappa coefficient of 0.50 (
P
 < 0.0001). The LE activity was significantly higher (
P
 < 0.05) in subclinical mastitis samples compared to that of healthy milk samples at the time of 10 and 15 min. In summary, these results showed a strong correlation among the LE test markers with the reagent strip test of Analyticon and SCC using the Fossomatic machine. Based on such findings, it is suggested that the LE activity could be used as a clinically useful cow-side test and a valid method for screening the subclinical mastitis.