05.01.2019 | Original Article | Ausgabe 2/2019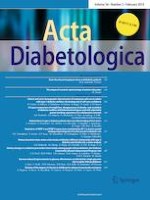 Exercise-induced improvements in glucose effectiveness are blunted by a high glycemic diet in adults with prediabetes
Zeitschrift:
Autoren:

Adithya Hari, Ciaràn Fealy, Thomas P. J. Solomon, Jacob M. Haus, Karen R. Kelly, Hope Barkoukis, John P. Kirwan
Wichtige Hinweise
Managed by Massimo Porta.
Parts of this work were presented at 77th Scientific Sessions of American Diabetes Association, San Diego, California, June 10th, 2017 as an oral presentation.
Publisher's Note
Springer Nature remains neutral with regard to jurisdictional claims in published maps and institutional affiliations.
Abstract
Aims
Glucose effectiveness (GE) refers to the ability of glucose to influence its own metabolism through insulin-independent mechanisms. Diminished GE is a predictor of progression to type 2 diabetes. Exercise training improves GE, however, little is known about how dietary interventions, such as manipulating the glycemic index of diets, interact with exercise-induced improvements in GE in at-risk populations.
Methods
We enrolled 33 adults with obesity and pre-diabetes (17 males, 65.7 ± 4.3 years, 34.9 ± 4.2 kg m
−2
) into a 12-week exercise training program (1 h day
−1
and 5 day week
−1
at ~ 85% of maximum heart rate) while being randomized to concurrently receive either a low (EX-LOG: 40 ± 0.3 au) or high (EX-HIG: 80 ± 0.6 au) glycemic index diet. A 75-g oral-glucose-tolerance test (OGTT) was performed before and after the intervention and GE was calculated using the Nagasaka equation. Insulin resistance was estimated using a hyperinsulinemic-euglycemic clamp and cardiorespiratory fitness using a
V
O
2max
test.
Results
Both EX-LOG and EX-HIG groups had similar improvements in weight (8.6 ± 5.1 kg,
P
 < 0.001),
V
O
2max
(6 ± 3.5 mL kg
−1
min
−1
,
P
 < 0.001) and clamp-measured peripheral insulin resistance (1.7 ± 0.9 mg kg
−1
min
−1
,
P
 < 0.001), relative to baseline data. GE in EX-LOG and EX-HIG was similar at baseline (1.9 ± 0.38 vs. 1.85 ± 0.3 mg dL
−1
min
−1
, respectively;
P
 > 0.05) and increased by ~ 20% post-intervention in the EX-LOG arm (∆GE: 0.07–0.57 mg dL
−1
min
−1
,
P
 < 0.05). Plasma free fatty acid (FFA) concentrations also decreased only in the EX-LOG arm (∆FFA: 0.13 ± 0.23 mmol L
−1
,
P
< 0.05).
Conclusions
Our data suggest that a high glycemic index diet may suppress exercise-induced enhancement of GE, and this may be mediated through plasma FFAs.