08.01.2019 | Original Article | Ausgabe 3/2019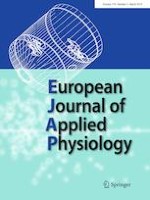 Exercise-induced muscle damage on the contractile properties of the lumbar paraspinal muscles: a laser displacement mechanomyographic approach
Zeitschrift:
Autoren:

Christian Than, Llion Roberts, Brooke K. Coombes, Danijel Tosovic, J. Mark Brown
Wichtige Hinweise
Communicated by Bénédicte Schepens.
Electronic supplementary material
Publisher's Note
Springer Nature remains neutral with regard to jurisdictional claims in published maps and institutional affiliations.
Abstract
Purpose
This study investigated whether laser displacement mechanomyography (MMG) could detect acute injury of low back muscles following strenuous eccentric exercise.
Methods
Sixteen healthy adults (10 females, 6 males, mean ± standard deviation, age 21 ± 2.90 years, BMI 21.63 ± 1.99 kg/m2), without low back pain or low back resistance training, were recruited. Strength [maximum voluntary isometric contraction force (MVC)], pain intensity [visual analogue scale (VAS)], biological markers of muscle injury (serum myoglobin and creatine kinase levels), and MMG-derived muscle contractile properties were measured at seven different time points. Pre-exercise 'control' measures were taken prior to a strenuous eccentric exercise task, followed by an immediate post-exercise measurement and further four consecutive daily measurements. A final post-exercise measurement was completed on day 12 post-exercise.
Results
Compared to pre-exercise control, MVC was lower immediately post-exercise (day 1) and on days 2–3. VAS scores were higher post-exercise (day 1) and from days 2–5. Myoglobin was significantly higher on day 4, whilst creatine kinase was significantly higher on days 4–5. MMG-derived maximum muscle displacement (
D
max
) was significantly diminished post-exercise (day 1) at all vertebral segments (L1-MT), while contraction velocity (
V
c
) was significantly slower at all segments except sacral multifidus.
V
c
recovered rapidly (by day 2), while mid-lumbar
D
max
resolved on day 12.
D
max
had moderate correlations with MVC (
R
 = 0.61) and VAS (
R
 = − 0.50), and low correlations with myoglobin (
R
 = − 0.36).
Conclusion
MMG appears capable of detecting changes in muscle contractile properties associated with an acute bout of low back pain.