01.12.2018 | Primary research | Ausgabe 1/2018 Open Access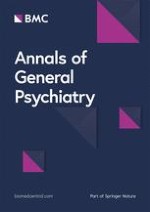 Exploring PTSD in emergency operators of a major University Hospital in Italy: a preliminary report on the role of gender, age, and education
Zeitschrift:
Autoren:

Claudia Carmassi, Camilla Gesi, Martina Corsi, Ivan M. Cremone, Carlo A. Bertelloni, Enrico Massimetti, Maria Cristina Olivieri, Ciro Conversano, Massimo Santini, Liliana Dell'Osso
Abstract
Background
Emergency services personnel face frequent exposure to potentially traumatic events, with the potential for chronic symptomatic distress. The DSM-5 recently recognized a particular risk for post-traumatic stress disorder (PTSD) among first responders (criterion A4) but data are still scarce on prevalence rates and correlates.
Objective
The aim of the present study was to explore the possible role of age, gender, and education training in a sample of emergency personnel diagnosed with DSM-5 PTSD.
Methods
The Trauma and Loss Spectrum-Self-Report (TALS-SR) and the Work and Social Adjustment Scale (WSAS) were administered to 42 between nurses and health care assistants, employed at the emergency room of a major University Hospital (Pisa) in Italy.
Results
21.4% of the sample reported DSM-5 PTSD with significantly higher scores in the TALS-SR domain exploring the acute reaction to trauma and losses among health care assistants, older, and non-graduated subjects. A significant correlation between the number of the TALS-SR symptoms endorsed, corresponding to DSM-5 PTSD diagnostic criteria emerged in health care assistants.
Conclusions
Despite further studies are needed in larger samples, our data suggest a high risk for PTSD and post-traumatic stress spectrum symptoms in nurses and health care workers operating in an emergency department, particularly among health care assistants, women, older, and non-graduated operators.