01.12.2015 | Research article | Ausgabe 1/2015 Open Access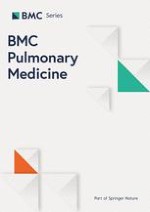 Expression of YKL-40 and MIP-1a proteins in exudates and transudates: biomarkers for differential diagnosis of pleural effusions? A pilot study
Zeitschrift:
Autoren:

Tonia Adamidi, Nikolaos Soulitzis, Eirini Neofytou, Savvas Zannetos, Andreas Georgiou, Kleomenis Benidis, Alexis Papadopoulos, Nikolaos M. Siafakas, Sophia E. Schiza
Wichtige Hinweise
Competing interest
The authors declare that they have no conflict of interests.
Authors' contribution
TA and NMS conceived the study and participated in its design along with NS, EN and AG. Data acquisition was performed by NS, EN, KB and AP. Data was analyzed by NS and SZ and interpreted by NS, NMS and SES. TA and NS drafted the manuscript, which was revised by TA, NS, NMS and SES. All authors read and approved the final manuscript.
Abstract
Background
YKL-40 is an extracellular matrix glycoprotein with a significant role in tissue inflammation and remodeling. MIP-1a has chemotactic and pro-inflammatory properties, and is induced by YKL-40 in several lung disorders. The aim of this study was to determine the levels of YKL-40 and MIP-1a in blood serum and pleural fluids of various pulmonary diseases, and to evaluate their potential role as differential diagnosis biomarkers.
Methods
We recruited 60 patients (age: 62.5 ± 20.6 years) with pleural effusions: 49 exudates and 11 transudates (T). Exudates were further classified based on the underlying disease: ten with tuberculosis (TB), 13 with lung cancer (LCa), 15 with metastatic cancer (MCa) of non-lung origin and 11 with parapneumonic (PN) effusions. YKL-40 and MIP-1a levels were measured by ELISA.
Results
Pleural YKL-40 levels (ng/ml) were similar among all patient groups (TB: 399 ± 36, LCa: 401 ± 112, MCa: 416 ± 34, PN: 401 ± 50, T: 399 ± 42,
p
 = 0.92). On the contrary, YKL-40 was significantly lower in the serum of TB patients (TB: 58 ± 22, LCa: 212 ± 106, MCa: 254 ± 140, PN: 265 ± 140, T: 229 ± 123,
p
 < 0.001). Pleural MIP-1a protein levels (ng/ml) were statistically lower only in patients with LCa (TB: 25.0 ± 20.2, LCa: 7.3 ± 6.0, MCa: 16.1 ± 14.9, PN: 25.4 ± 27.9, T: 18.5 ± 7.9,
p
 = 0.012), a finding also observed in serum MIP-1a levels (TB: 17.1 ± 7.6, LCa: 9.4 ± 7.0, MCa: 28.7 ± 28.7, PN: 33.3 ± 24.0, T: 22.9 ± 8.7,
p
 = 0.003).
Conclusions
Our data suggest that both YKL-40 and MIP-1a, particularly in serum, could prove useful for the differentiation of pleural effusions in clinical practice, especially of TB or LCa origin. However, large-scale studies are needed to validate these findings.