01.12.2015 | Research article | Ausgabe 1/2015 Open Access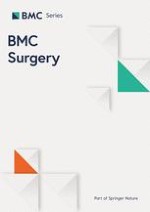 Extended resection in pancreatic metastases: feasibility, frequency, and long-term outcome: a retrospective analysis
Zeitschrift:
Autoren:

Georg Wiltberger, Julian Nikolaus Bucher, Felix Krenzien, Christian Benzing, Georgi Atanasov, Moritz Schmelzle, Hans-Michael Hau, Michael Bartels
Wichtige Hinweise
Hans-Michael Hau and Michael Bartels contributed equally to this work.
Competing interests
The authors declare that they have no competing interests.
Authors' contributions
GW, JB, HMH and MB were responsible for the study conception and design; GW, CB, JB, FK, GA, and HMH were responsible for data acquisition; GW, JB, HMH, and MB analyzed and interpreted the data; GW, JB, and HMH drafted the manuscript; and FK, JB, CB, MS, HMH and MB critically revised the manuscript. All authors read and approved the final manuscript.
Abstract
Background
Metastases to the pancreas are rare, accounting for less then 2 % of all pancreatic malignancies. However, both the benefit of extended tumor resection and the ideal oncological approach have not been established for such cases; therefore, we evaluated patients with metastasis to the pancreas who underwent pancreatic resection.
Methods
Between 1994 and 2012, 676 patients underwent pancreatic surgery in our institution. We retrospectively reviewed patients' medical records according to survival, and surgical and non-surgical complications. Student's
t
-test and the log-rank test were used for statistical analysis.
Results
Eighteen patients (2.7 %) received resection for pancreatic metastases (12 multivisceral resections and 6 standard resections). The pancreatic metastases originated from renal cell carcinoma (
n
 = 10), malignant melanoma (
n
 = 2), neuroendocrine tumor of the ileum (
n
 = 1), sarcoma (
n
 = 1), colon cancer (
n
 = 1), gallbladder cancer (
n
 = 1), gastrointestinal stromal tumor (
n
 = 1), and non-small cell lung cancer (
n
 = 1). The median time between primary malignancy resection to metastasectomy was 83 months (range, 0–228 months). Minor surgical complications (Grade I-IIIa) occurred in six patients (33.3 %) whereas major surgical complications (Grade IIIb-V) occurred in three patients (16.6 %). No patients died during hospitalization. The median follow-up was 76 months (range, 10–165 months). One-year, 3-year and 5-year survival for standard resection versus multivisceral resection was 83, 50, and 56 % versus 83, 66, and 50, respectively. Twelve patients died after a median of 26 months (range, 5–55 months).
Conclusions
A surgical approach with curative intent is justified in select patients suffering from metastases to the pancreas and offers good long-term survival. The resection of pancreatic metastases of different tumor types was associated with favorable morbidity and mortality when compared with resection of the primary pancreatic malignancies. Our findings also demonstrated that multivisceral resection was feasible, with acceptable long term outcomes, even though morbidity rates tended to be higher after multivisceral resection than after standard resection.