12.01.2016 | Case Reports / Case Series | Ausgabe 5/2016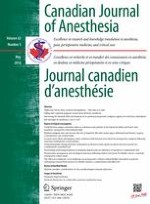 Failed caudal block due to physiologic changes associated with a cerebrospinal fluid leak: a case report
Autoren:

MD Erin Bruce, MD Adam O. Spencer, MD Mehmet Sait Albayram
Wichtige Hinweise
Author contributions
Erin Bruce
,
Adam O. Spencer
, and
Mehmet Sait Albayram
contributed substantially to all aspects of this manuscript, including conception and design; acquisition, analysis, and interpretation of data; and drafting the article.
Abstract
Purpose
The sum of the volumes of brain tissue, cerebrospinal fluid (CSF), and intracranial blood remain constant. This tenet of the Monroe-Kellie hypothesis is most often considered in the setting of intracranial hypertension, but it can also be applied in the setting of CSF volume depletion. We used this hypothesis to explain a case of failed caudal block in a patient with an iatrogenic CSF leak.
Clinical features
A one-month-old baby (3 kg) born at 35 weeks' gestation presented for right inguinal hernia repair. His past medical history was significant for arthrogryposis (congenital joint contractures in two or more areas of the body) as well as ongoing apneic episodes that required continuous positive airway pressure therapy and neonatal intensive care. An ultrasound confirmed caudal block was completed and within five minutes of the procedure, the patient's heart rate increased, with an accompanying slight increase in T-wave amplitude. Pinch tests revealed anesthesia to the feet bilaterally but insufficient anesthesia to the abdomen. The surgery was delayed but successfully completed under general anesthesia the following week. Magnetic resonance imaging of the brain and spine following the surgery showed a significant CSF leak with engorgement of the epidural venous plexus along the entire spine. These findings were consistent with a CSF leak likely secondary to a prior lumbar puncture (at age 13 days) that was part of the investigation of his respiratory issues.
Conclusions
The possible mechanism of this failed caudal block was high systemic absorption of anesthetic given the epidural venous plexus engorgement thus leaving less anesthetic acting within the CSF and on the exiting spinal nerves. Decreased CSF flow in the thecal sac might also have contributed, as might dilution of the remaining local anesthetic caused by large amounts of leaking CSF within the epidural space.