21.08.2018 | Diagnostic Neuroradiology | Ausgabe 11/2018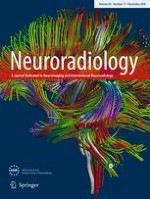 Gadolinium effect on thalamus and whole brain tissue segmentation
Zeitschrift:
Autoren:

Salem Hannoun, Marwa Baalbaki, Ribal Haddad, Stephanie Saaybi, Nabil K. El Ayoubi, Bassem I. Yamout, Samia J. Khoury, Roula Hourani
Wichtige Hinweise
Electronic supplementary material
Abstract
Purpose
Gadolinium-based contrast agent (GBCA) effect on automated segmentation algorithms of subcortical gray matter (GM) is not fully known. The aim of this study is to determine gadolinium effect on the segmentation of the thalamus and whole brain tissue using different automated segmentation techniques.
Methods
Eighty-four multiple sclerosis (MS) patients underwent an MRI acquisition of two 3DT1-weighted sequences with and without gadolinium injection among which 10 were excluded after image quality check. Manual thalamic segmentation considered as gold standard was performed on unenhanced T1 images. volBrain and FSL-Anat were used to automatically segment the thalamus on both enhanced and unenhanced T1 and the degree of similitude (DICE) values were compared between manual and automatic segmentations. Whole brain tissue segmentation (GM, white matter (WM), and lateral ventricles (LV)) was also performed using SIENAX. A paired samples
t
test was applied to test the significance of DICE value differences between the thalamic manual and automatic segmentations of both enhanced and unenhanced T1 images.
Results
Significant differences (FSL-Anat 1.474%
p
 < 0.001 and volBrain 1.990%
p
 < 0.001) in DICE between thalamic manual and automatic segmentations on both enhanced and unenhanced images were observed. Automatic tissue segmentation showed a mean DICE of 81.5%, with LV having the lowest DICE value (74.2%). When compared to tissue segmentations, automatic thalamic segmentations by FSL-Anat or volBrain demonstrated a higher degree of similitude (FSL-Anat = 91.7% and volBrain = 90.7%).
Conclusion
Gadolinium has a significant effect on subcortical GM segmentation. Although significant, the observed subtle changes could be considered acceptable when used for region-based analysis in perfusion or diffusion imaging.