20.02.2019 | Original Article | Ausgabe 8/2019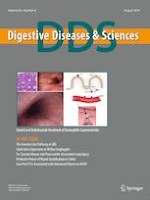 Generalized Cytokine Increase in the Setting of a Multisystem Clinical Disorder and Carcinoid Syndrome Associated with a Novel
NLRP12

Variant
Zeitschrift:
Autoren:

Noam Jacob, Sonya S. Dasharathy, Viet Bui, Jihane N. Benhammou, Wayne W. Grody, Ram Raj Singh, Joseph R. Pisegna
Wichtige Hinweise
Publisher's Note
Springer Nature remains neutral with regard to jurisdictional claims in published maps and institutional affiliations.
Abstract
Background
Nucleotide-binding oligomerization domain (NOD)-like receptors (NLRs) are a group of cytoplasmic sensors that survey danger signals released by invading pathogens or damaged tissue. Mutations in the
NLRP
subfamily affect pro-inflammatory mediators and cause nonspecific systemic symptoms.
Aims
We sought to identify a potential genetic etiology of an inflammatory syndrome in a patient that presented with an atypical multisystem illness with carcinoid syndrome as well as atopic and autoimmune features.
Methods
Exome sequencing was performed using the Agilent SureSelect Clinical Research Exome XT kit on an Illumina HiSeq 2500. Longitudinal monitoring of pro-inflammatory cytokines was performed.
Results
We identified a novel variant (heterozygous c.536C > T [p.Thr179Ile]) in the
NLRP12
gene in a 63-year-old woman and her daughter, who presented with an unusual clinical syndrome that differs from autoinflammatory disorders previously reported in association with the
NLRP
subfamily gene mutations. This
NLRP12
variant was predicted to be pathogenic by functional analysis through Hidden Markov Models (FATHMM). Both the mother and the daughter had episodes of abdominal pain, fever, diarrhea, skin rash, hypothyroidism, and elevated urine 5-hydroxyindoleacetic acid (5-HIAA) levels. The proband also had elevated serum levels of pro-inflammatory (IL-1β, IL-6, IL-12, and TNF-α), Th1 (IL-2, IFN-γ), and Th2 (IL-4, IL-5, IL-13) cytokines, but not of Th17 (IL-17) and IL-10.
Conclusion
This report adds to the expanding spectrum of clinical manifestations attributed to the
NLRP
subfamily gene variants and suggests a role of
NLRP12
in the regulation of multiple cytokines.