01.12.2017 | Research | Ausgabe 1/2017 Open Access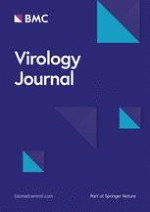 Genetic polymorphisms of HLA-DP and isolated anti-HBc are important subsets of occult hepatitis B infection in Indonesian blood donors: a case-control study
Zeitschrift:
Autoren:

Yan Mardian, Yoshihiko Yano, Widya Wasityastuti, Neneng Ratnasari, Yujiao Liang, Wahyu Aristyaning Putri, Teguh Triyono, Yoshitake Hayashi
Wichtige Hinweise
Electronic supplementary material
Abbreviations
Anti-HBc
Antibody to hepatitis B core antigen
Anti-HBs
Antibody to hepatitis B surface antigen
CLIA
Chemiluminescence enzyme immunoassays
HBsAg
Hepatitis B surface antigen
HIV
Human Immunodeficiency virus
HLA-DPA
Human leucocyte antigen DP gene alpha chain
HLA-DPB
Human leukocyte antigen DP gene beta chain
HWE
Hardy–Weinberg equilibrium
MAF
Minor allelic frequencies
MEGA
Molecular Evolutionary Genetics Analysis
OBI
Occult hepatitis B infection
OLT
Orthotopic liver transplantation
SNP
Single nucleotide polymorphisms
Background
Methods
Participants and protocol
The present study recruited Indonesian blood donors from Dr. Sardjito Hospital, Yogyakarta, Indonesia, between April 2013 and November 2014. A total of 456 healthy participants of Javanese ethnicity were enrolled from the blood donation unit. During their first visit, all subjects provided verbal informed consent for the storage of blood samples for further studies. The present study also recruited 121 Japanese subjects from Kobe University Hospital for comparison of the linkage disequilibrium (LD) pattern between the two populations.
All participants had to meet the following inclusion criteria: normal physical examination and tested negative for hepatitis B surface antigen (HBsAg), hepatitis C virus (HCV), and human immunodeficiency virus (HIV). The study protocol conformed to the ethical guidelines of the 1975 Declaration of Helsinki and was approved by the Medical and Health Research Ethics Committee (MHREC) Faculty of Medicine, Gadjah Mada University (Trial registration: Ref: KE/FK/194/EC [01 March 2013] Additional file
1
, Ref: KE/FK/536/EC [12 May 2014]) Additional file
2
. All subjects provided written informed consent before enrolment.
Serological tests
All subjects were screened for HBsAg, anti-HCV antibodies, and anti-HIV antibodies using automated chemiluminescent enzyme immunoassays on an Architect analyzer (Abbott Laboratories, IL, USA). Subjects testing negative were further examined for antibodies to the hepatitis B surface antigen (anti-HBs) and hepatitis B core antibodies (anti-HBc) using chemiluminescence immunoassays (CLIA) (Architect AUSAB, Abbott Japan). Anti-HBs and anti-HBc titers were considered positive at threshold values of ≥ 10.0 mIU/ml and ≥1.0 s/CO, respectively.
DNA extraction and SNP genotyping
For HBV DNA extraction and SNP genotype determination, peripheral venous blood was drawn and collected into EDTA blood tubes. HBV DNA and genomic DNA were extracted from 200 μl of serum and buffy coats using the QIAamp DNA Blood Mini Kit; Qiagen, Hilden, Germany), in accordance with the manufacturer's instructions.
Genotyping of each subject for HLA-DPA1 (rs3077) and HLA-DPB1 (rs3135021, rs9277535, and rs2281388) variants was performed using the Allelic Discrimination Assay on a 7500 Real-Time PCR system with TaqMan® Genotyping Master Mix (Applied Biosystems, Foster City, CA, USA). The SNP rs3077 (located in the 3′ untranslated region [UTR] of HLA-DPA1) was selected because it is representative of the DPA1 haplotype block, and rs9277535 (in the 3′ UTR of HLA-DPB1) and rs2281388 (in the downstream region of HLA-DPB1) were selected because they were functionally different SNPs in the DPB1 haplotype block, as determined using Haploview 4.2 software (available at
http://​hapmap.​ncbi.​nlm.​nih.​gov/​)
[
15
]. rs3135021 (in intron 1 of HLA-DPB1) was also selected because it did not belong to any haplotype block. SNPs were genotyped as previously described with specific primers [
15
] and FAM and VIC-labelled probes provided by Sigma-Aldrich (Hokkaido, Japan) in compliance with recommended protocol [
16
]. All four SNPs were successfully genotyped at rates of >97.5%. Quality control for each assay was performed using samples with known genotypes obtained by direct sequencing.
HBV amplification and quantification of HBV DNA
HBV DNA was detected using a previously described nested PCR method with primers targeting the S, polymerase (Pol), precore-core, and X regions of the HBV genome, with slight modifications. The primers targeting the four Open Reading Frames (ORFs) were used as previously described [
17
]. The conditions for the first and second rounds of PCR were 95 °C for 10 min, followed by 40 cycles of 95 °C for 30 s, 58 °C for 30 s, 72 °C for 1 min, and the final extension at 72 °C for 10 min. Appropriate controls were included in each PCR reaction. OBI positivity was based on the detection of HBV DNA by nested PCR in at least two regions out of four ORFs in anti-HBs and/or anti-HBc positive samples (seropositive).
Quantification of HBV DNA was performed using the TaqMan PCR Assay (lower limit of detection, 2.1 log copies/ml) in a Roche-LightCycler® 96 Real-Time PCR System.
Direct sequencing and genotype determination
The amplified product from the second round of PCR was purified using ExoSAP-IT (USB Corporation, Cleveland, OH, USA) according to the manufacturer's instructions. The PCR products were sequenced using the BigDye Terminator version 3.1 cycle sequencing kit on an ABI Prism 3100-Avant genetic analyser (Applied Biosystems, Foster City, CA, USA). The nucleotide sequences obtained from direct sequencing and the reference sequences retrieved from GenBank were aligned with Clustal X Software [
18
].
Phylogenetic trees were constructed using the neighbour-joining method, and bootstrap resampling was performed 1000 times. The analyses were performed using Molecular Evolutionary Genetics Analysis (MEGA) software.
Statistical analysis
The Hardy–Weinberg equilibrium (HWE) of the genotype distributions and the LD of the SNPs were examined using Haploview software v4.2 (
http://​www.​broadinstitute.​org/​haploview/​haploview)
[
19
]. Differences in categorical variables and continuous variables were compared using the Pearson χ2 test and Student's t test, respectively. The genotype frequency represented the frequency of the major homozygous (MM), heterozygous (Mm), and minor homozygous (mm) alleles corresponding to each SNP (rs3077 corresponds to C/T, rs3135021 corresponds to G/A, rs9277535 corresponds to G/A, and rs2281388 corresponds to C/T).
Genetic associations (genotype-based, allele-based, and haplotype-based) were tested using the χ2 test or Fisher's exact test. Three different genetic association models were generated: the additive genetic model [minor allele (m) versus (vs.) major allele (M)], in which each copy of a minor allele modifies the risk in an additive manner, resulting in the homozygous minor (mm) having a two-fold higher risk than the heterozygote (Mm) [comparing 2 mm + Mm (Ad) vs. MM]; the dominant genetic model [heterozygote and minor homozygote (Mm + mm) vs. major homozygote (MM)]; and the recessive genetic model [minor homozygote (mm) vs. major homozygote and heterozygote (MM + Mm)].
Logistic regression was performed to compare cases and control groups, and all odds ratios (ORs), 95% confidence intervals (CIs) and
p
values were adjusted for age and sex. Haplotype frequency was estimated using a two-stage iterative method, the Expectation Maximization algorithm.
Statistical analyses were performed using SPSS version 22 (IBM Corporation, Armonk, NY, USA), whereas allele-based and haplotype-based genetic models were applied using SNPStats web tools (
http://​bioinfo.​iconcologia.​net/​SNPstats
.) [
20
]. Statistical significance was defined by
P
values of <0.05.
Results
Discussion
Conclusion
In conclusion, HLA-DP variants were associated with OBI detection in seropositive Indonesian blood donors. The minor allele of rs3077 (T) in the HLA-DPA1 gene was related to an increased risk of OBI. A combination of haplotype markers (TGA for rs3077–rs3135021–rs9277535) was also associated with OBI detection. The HBV serological marker (isolated anti-HBc) may play an important role in predicting latent HBV infection. The results suggest that the combination of SNP genotyping in the HLA-DP gene and HBV serological marker testing may be a valuable screening method in the blood donation setting to prevent OBI transmission through blood donors.
Acknowledgements
The authors are thankful to all of the willing subjects who participated in this research. We also thank the medical staff for their help throughout the entire process of this study, for their invaluable technical advice and help with data analysis, and their assistance with sample preparation.
Funding
This study was supported by a grant-in-aid from the Ministry of Education, Culture, Sports, Science and Technology, Japan. Grant number: 16H05826.
Availability of data and materials
The data sets supporting the conclusions of this article are included within the article.
Ethics approval and consent to participate
The study protocol conformed to the ethical guidelines of the 1975 Declaration of Helsinki and was approved by the Medical and Health Research Ethics Committee (MHREC), Faculty of Medicine, Gadjah Mada University (Trial registration: Ref: KE/FK/194/EC [01 March 2013], Ref: KE/FK/536/EC [12 May 2014]). All subjects gave their written informed consent before enrolment.
Consent for publication
Not applicable.
Competing interests
The authors declare that they have no competing interest.
Publisher's Note
Springer Nature remains neutral with regard to jurisdictional claims in published maps and institutional affiliations.
Open Access
This article is distributed under the terms of the Creative Commons Attribution 4.0 International License (
http://​creativecommons.​org/​licenses/​by/​4.​0/​
), which permits unrestricted use, distribution, and reproduction in any medium, provided you give appropriate credit to the original author(s) and the source, provide a link to the Creative Commons license, and indicate if changes were made. The Creative Commons Public Domain Dedication waiver (
http://​creativecommons.​org/​publicdomain/​zero/​1.​0/​
) applies to the data made available in this article, unless otherwise stated.