01.12.2017 | Research article | Ausgabe 1/2017 Open Access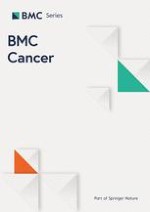 High lymphatic vessel density and presence of lymphovascular invasion both predict poor prognosis in breast cancer
Zeitschrift:
Autoren:

Song Zhang, Dong Zhang, Mingfu Gong, Li Wen, Cuiwei Liao, Liguang Zou
Wichtige Hinweise
Electronic supplementary material
The online version of this article (doi:
10.​1186/​s12885-017-3338-x
) contains supplementary material, which is available to authorized users.
Background
Methods
Literature search
Databases of PubMed, Embase and Web of Science were searched from inception up to 30 June 2016 by two independent observers. The following Medical Subject Heading (MeSH) terms or keywords were used: "breast cancer OR breast carcinoma OR breast neoplasms" AND "lymphatic vessel density OR lymphatic microvessel density OR LVD OR LMVD OR lymphangiogenesis OR lymphovascular invasion OR lymphatic vessel invasion OR lymphatic invasion OR LVI" AND "prognostic OR prognosis OR survival". All abstracts mentioned the prognostic values of lymphatic vessel density or lymphovascular invasion, no matter prospective or retrospective, were selected for further consideration.
Inclusion criteria
The studies met the following criteria could be included: (1) treated with the patients with primary breast cancer only, instead of the patients who were previously diagnosed with other diseases; (2) published as a full paper, by no means of review papers, case reports, meeting abstracts, or animal researches; (3) determined lymphovascular invasion presence by immunohistochemical staining, rather than hematoxylin and eosin (H&E) staining. Two independent authors followed the inclusion criteria to review the publications. When two or more articles reported duplicating data, only the study with the most recent data, or the largest dataset was included.
Data extraction
The final eligible studies were conducted the data extraction with a standardized form. The data retrieved from the papers included the first author's name, year, country, number of the patients (size), age, antibody and its dilution, follow-up period, cutoff value of lymphatic vessel density, detection rate of lymphovascular invasion, and the results of DFS and OS. The key components of designs were used to estimate the quality of primary studies, based on the criteria of the Newcastle-Ottawa Quality Assessment scale (NOS) [
15
].
Statistical analysis
The extracted data were analyzed by using STATA software version 12.0 (STATA Corporation, College Station, Texas, USA). We evaluated the impacts of lymphatic vessel density, lymphovascular invasion on survival by pooling the hazard ratio (HR) results. HR values and their corresponding 95% confidence intervals (95% CIs) were obtained by the methods as previously reported [
16
]. In method one, the HRs were directly acquired from the publications. In method two, the HRs were calculated from the total number of events and its
P
value, or from the O-E statistic (difference between numbers of observed and expected events) and its variance. In method three, the survival rate at the end point of the survival curve was extracted to reconstruct the estimated HR and its variance, with the assumption that the rate of patients censored was constant during the follow-up period. The estimated HR values were combined into an overall HR value using Peto's method. Homogeneity test was performed with Q statistic and I
2
statistic. A random-effects model or, in the absence of heterogeneity, a fixed-effects model was applied to combine the HR values. An observed HR > 1 represented a worse survival for the group with a high lymphatic vessel density or presence of lymphovascular invasion.
P
< 0.05 and I
2
> 50% were considered as statistically significant. Publication bias was evaluated using a funnel plot of Egger's test.
Results
Discussion
The current meta-analysis study indicates that both lymphatic vessel density and lymphovascular invasion presence can predict poor prognosis in females with breast cancer. Compared with the high lymphatic vessel density, the presence of lymphovascular invasion in breast cancer appears to have weaker impacts on DFS and OS; but it is also significantly associated with poor survival. Furthermore, lymphovascular invasion was present in 29.56% of breast cancer patients, who would have poorer prognosis.
The current meta-analysis study has some strengths. The results show that both lymphatic vessel density and lymphovascular invasion are unfavorable predictors on DFS and OS in breast cancer. The included 19 studies and 4215 participants enhanced the statistical power and provided more reliable results. However, some limitations should be considered. All included studies were observational studies with relatively small sample sizes. Selection bias and recall bias were inevitable. Besides, the values of lymphatic vessel density varied notably due to unmeasured or inadequately measured factors. It resulted that different cutoff values were used to define high and low lymphatic vessel density subgroups in different studies. Although there are no heterogeneities show in each subgroup, the deviations caused by different cutoff values cannot be ignored. Nevertheless, the conclusion that higher lymphatic vessel density is associated with poor survival is reasonable even with different cutoff values. Therefore, strictly controlled studies with larger sample sizes are needed.
Conclusions
The study demonstrates that the high lymphatic vessel density and the presence of lymphovascular invasion both are unfavorable prognostic factors in primary breast cancer. Compared with lymphatic vessel density, lymphovascular invasion shows a weaker influence on patients' survival, but it is also an important risk factor in breast cancer. Counting methods of lymphatic vessel density, choice of appropriate cutoff value, thoroughly analysis of lymphovascular invasion, and standardized design of study, are the crucial points need to be considered.
Acknowledgements
None to declare.
Funding
The work was supported by the National Natural Science Foundation of China (NSFC) (Nos 81401466, 81501521).
Availability of data and materials
All data generated or analysed during this study are included in this published article.
Authors' contributions
ZLG designed the study, prepared the final version and submitted the paper. ZS made the literature search and drafted the manuscript. ZD and GMF extracted the study data and made the statistical analysis. WL and LCW corrected the draft of the paper and prepared the final version of the manuscript. All authors contributed to the design of this meta-analysis and played a substantial contribution in manuscript redaction. All authors approved the final version of this article.
Competing interests
The authors declare that they have no competing interests.
Consent for publication
Not applicable.
Ethics approval and consent to participate
Not applicable.
Publisher's Note
Springer Nature remains neutral with regard to jurisdictional claims in published maps and institutional affiliations.
Open Access
This article is distributed under the terms of the Creative Commons Attribution 4.0 International License (
http://​creativecommons.​org/​licenses/​by/​4.​0/​
), which permits unrestricted use, distribution, and reproduction in any medium, provided you give appropriate credit to the original author(s) and the source, provide a link to the Creative Commons license, and indicate if changes were made. The Creative Commons Public Domain Dedication waiver (
http://​creativecommons.​org/​publicdomain/​zero/​1.​0/​
) applies to the data made available in this article, unless otherwise stated.