01.12.2017 | Research | Ausgabe 1/2017 Open Access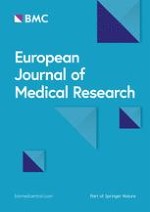 High sensitivity troponin T and I reflect mitral annular plane systolic excursion being assessed by cardiac magnetic resonance imaging
Zeitschrift:
Autoren:

Michèle Natale, Michael Behnes, Seung-Hyun Kim, Julia Hoffmann, Nadine Reckord, Ursula Hoffmann, Johannes Budjan, Siegfried Lang, Martin Borggrefe, Theano Papavassiliu, Thomas Bertsch, Ibrahim Akin
Wichtige Hinweise
Electronic supplementary material
The online version of this article (doi:
10.​1186/​s40001-017-0281-x
) contains supplementary material, which is available to authorized users.
Michèle Natale and Michael Behnes contributed equally to this work
Background
Mitral annular plane systolic excursion (MAPSE) represents a central parameter of cardiac function being measured by cardiac magnetic resonance imaging (cMRI) [
1
]. MAPSE correlates with systolic longitudinal left ventricular (LV) contractility, and thus complements the assessment of LV ejection fraction (EF), which itself reflects circumferential LV contractility [
2
]. A reduction of MAPSE was shown to correlate with the presence of heart failure (HF) with preserved ejection fraction (HFpEF) [
3
]. Moreover, it was demonstrated that reduced MAPSE might reflect increased cardiac mortality and re-hospitalization incidence in patients with HF, as well as in those with atrial fibrillation (AF) and after myocardial infarction [
4
].
Cardiac biomarkers, such as natriuretic peptides, reveal powerful diagnostic and prognostic values for the risk-stratification of patients with HF [
5
]. Increased levels of amino-terminal pro-brain natriuretic peptide (NT-proBNP) were shown to be associated with MAPSE as being evaluated by transthoracic echocardiography [
6
]. Cardiac troponins (cTn) represent the major enzymes for myocardial contractility [
7
]. Recently developed sensitive troponin assays are characterized by an approximately hundredfold lower detection limit than conventional troponin assays [
8
]. Therefore, measurements of cardiac high sensitivity (hs) troponin I (TnI) and T (TnT) might bear the potential to diagnose a myocardial infarction much earlier compared to conventional troponin tests [
9
,
10
].
Within a community registry of atherosclerosis, elevated hsTn were shown to reflect the presence of chronic heart failure (CHF) better than conventional tests due to its lower detection limit [
11
]. Furthermore, cardiac biomarkers, such as NT-proBNP and hsTn, were shown to be associated with short- and long-term-prognosis in patients suffering from CHF with reduced and preserved ejection fraction (HFrEF and HFpEF) [
7
,
12
,
13
]. In addition, it was demonstrated that the concentration of hsTn related significantly to LVEF and LV end-diastolic pressure measured by transthoracic echocardiography [
14
]. However, whether hsTn might be able to reflect MAPSE being assessed by cMRI is hardly investigated.
Therefore, this study aims to investigate whether concentrations of hsTn are able to reflect MAPSE being assessed by cMRI.
Methods
Study population
The "Cardiovascular Imaging and Biomarker Analyses" (CIBER) study (clinicaltrials.gov identifier: NCT 03074253) represents a clinically prospective, controlled and monocentric study conducted at the University Medical Center Mannheim, Germany. The research adhered to the principals outlined in the Declaration of Helsinki and was approved by a regional ethics committee. Written informed consent was obtained from all patients.
For the present study, patients undergoing cMRI during routine clinical care were included consecutively to this study from February 2015 until June 2015 within an all-comers design. To perform valuable cMRI examination all patients had to be in a stable clinical condition without acute clinical symptoms, such as acute dyspnea or extensive peripheral edema. The indications for cMRI were not restricted to any specific cardiac disease entity. Exclusion criteria for cMRI accorded to commonly known exclusion criteria, such as claustrophobia and metal implants [
1
]. Specifically for the present study, patients with a reduced right ventricular function (RVF) below 50% were excluded.
All available clinical information of the study patients were documented, such as detailed findings of patients' prior medical history, laboratory findings and medical therapies. Blood samples for biomarker measurements were collected once within 24 h following cMRI examination.
Measurements of biomarkers
All expressed biomarkers were measured in the serum of patients' blood. All samples were obtained by venipuncture into serum monovettes
®
and centrifuged at 2000
g
for 10 min at 20 °C. The aliquoted samples were cooled down with liquid nitrogen before being stored at − 80 °C until analysis. The complete processing was conducted within two hours after blood extraction. After thawing, the samples were mixed gently by inverting and centrifuged with 2500
g
for 10 min at 20 °C, respectively, 3000
g
for 30 min for hsTnI at 4 °C.
HsTnT was measured with the Troponin T hs STAT assay on a cobas e 602 analyzer (Roche Diagnostics, Mannheim, Germany). The limit of blank (LoB) for this assay was 3 ng/L and the limit of detection (LoD) was 5 ng/L as described in the instructions for use [
15
]. HsTnI was measured with the STAT High sensitivity Troponin-I assay on an Architect i1000 analyzer (Abbott, Wiesbaden, Germany). The LoB was 0.7–1.3 ng/L and the LoD was 1.1–1.9 ng/L for this assay as described in the instructions for use [
16
]. NT-proBNP was measured with the proBNP II STAT assay on a cobas e 602 analyzer (Roche Diagnostics, Mannheim, Germany). The LoD for this assay was 5 ng/L [
17
]. Creatinine was measured with the Creatinine Jaffe Gen.2 assay on a cobas c 702 analyzer (Roche Diagnostics, Mannheim, Germany).
cMRI acquisition
All studies were performed using a 1.5-T whole-body imaging system (Magnetom Avanto and Sonata, Siemens Medical Systems, Healthcare Sector, Erlangen, Germany) using a four-element (Sonata) or six-element (Avanto) phased-array body coil. Cine images were acquired using a retrospective electrocardiographic-gated, balanced segmented steady-state free precession (trueFISP) sequence in three long-axis views (2-, 3-, and 4-chamber views) and in multiple short-axis views, covering the entire left ventricle from base to apex.
cMRI analysis
The cMRI image analysis was performed using the commercially available computer software program cvi
42®
(Circle Cardiovascular Imaging Inc., Calgary, Canada). MAPSE measurements were assessed on four-chamber view cine images. The distance between the basal septal mitral annulus (septal MAPSE), the basal lateral mitral annulus (lateral MAPSE) and a reference point outside the left ventricular apex was measured in end-diastole and end-systole. The distance traveled by the septal and lateral annulus from end-diastole to end-systole was calculated as septal and lateral MAPSE by subtracting the left ventricular end-systolic length from the left ventricular end-diastolic length as being described previously [
18
]. Average MAPSE was calculated as the average of septal and lateral MAPSE. Three sub-groups were set according to MAPSE: (MAPSE I: ≥ 11 mm, MAPSE II: ≥ 8 to < 11 mm, MAPSE III: < 8 mm).
Statistical analysis
For data with normal distribution, the Student's t test was applied. Otherwise, Kruskal–Wallis test was used as non-parametric test. Deviations from a Gaussian distribution were tested by the Kolmogorov–Smirnov test. First, the clinical confounding factors influencing MAPSE in the total cohort were evaluated within multivariable linear regression model adjusted for hsTn and clinical parameters or comorbidities (coronary artery disease (CAD), valvular heart disease and AF). Second, MAPSE subgroups were set into MAPSE I: ≥ 11 mm; MAPSE II: ≥ 8 to < 11 mm; MAPSE III: < 8 mm and the distribution of cMRI indices according to MAPSE subgroups was analyzed. Third, univariate correlations between hsTn and cMRI parameters in all patients were analyzed using Spearman's rank correlation for non-parametric data. In a fourth step, multivariable linear regression models adjusted for basic parameters (age, sex, creatinine) and clinical parameters or cardiac comorbidities (CAD, valvular heart disease, AF, impaired left atrial function (LAF) < 45% and impaired MAPSE < 8 mm) were performed for evaluating influencing factors on hsTn in the present cohort. Thereafter, receiver operating characteristic (ROC) curve analyses with area under the curves (AUC) were determined to evaluate whether biomarkers are able to discriminate the presence of reduced MAPSE. ROC curves were compared by the method of Hanley et al. [
19
]. In a last step, multivariable logistic regression models were developed to confirm the diagnostic value of hsTn for impaired MAPSE implicating pre-defined cutoffs, and these models were adjusted for basic parameters (age, sex, creatinine) and biomarkers (NTproBNP and hsTn). Multivariable linear or logistic regression analyses were performed with backward elimination. Parameters in multivariable models were included to these models as independent variables, when they revealed a known clinical impact on or significant univariate correlations with the dependent variable. Data are presented as means with confidence intervals (CI) or medians with interquartile ranges (IQR) (25th to 75th percentiles), depending on the distribution of the data.
p
values < 0.05 were considered as statistically significant. Statistical analyses were performed in all patients and in three sub-groups according to MAPSE: (MAPSE I: ≥ 11 mm; MAPSE II: ≥ 8 mm − < 11 mm; MAPSE III: < 8 mm). Cutoffs of biomarkers were set at the group specific medians of each biomarker for the groups of reduced MAPSE. Power calculations were performed when multivariable regression models revealed lacking statistical significance for the tested biomarkers. The calculations were performed with GraphPad Prism software (GraphPad Software Inc., San Diego, CA, USA) and SPSS software (IBM SPSS Statistics, IBM Corp., Armonk, NY, USA).
Results
Discussion
Therefore, the diagnostic combination of hsTn and MAPSE being assessed by cMRI might detect potentially early stages of LV dysfunction as being indicated by impaired MAPSE already, despite a still preserved or only slightly reduced LVEF and beyond clinical confounding factors known to influence hsTn release such as age, AF, renal failure. This sets out hsTn as even more sensitive biomarkers being of valuable benefit for realistic clinical settings. Detecting LV dysfunction already at very early and compensated stages of CHF with only mild to moderate symptoms revealing only mild to moderate reduction of LVEF and a still preserved LVSV turns MAPSE into a precursor of HF. Whether routine measurements of hsTn either with or without cMRI imaging within standard of care in such patients might lead to a more close-meshed follow-up of these patients or might initiate or improve HF treatment at earlier stages needs to be addressed in upcoming larger prospective and randomized controlled studies.
Study limitations
Statistical power might have been only moderate in the subgroup of patients with MAPSE < 8 mm to specifically confirm/exclude an additional diagnostic value for hsTnT, as seen in the lack of statistical significance in multivariable regressions. Therefore, the present results need to be confirmed within larger patient cohorts including similar patients evaluating both hsTnT and hsTnI.
Authors' contributions
MN participated in data acquisition, data analysis, statistical analysis, literature research and drafted the first manuscript. MBe conceived the study, participated in its design and coordination, participated in data and statistical analysis and interpretation and helped to draft and revise the manuscript for important intellectual content. SHK participated in data acquisition, data analysis and literature research and helped to draft the first manuscript. JH, NR and JB revised the manuscript for important intellectual content. UH participated in the study design and critically revised the manuscript for important intellectual content. SL participated in data analysis and statistical analysis. MBo critically revised the manuscript for important intellectual content. TP participated in data acquisition and data analysis and revised the manuscript for important intellectual content. TB participated in data analysis, carried out the immunoassays and revised the manuscript for important intellectual content. IA conceived the study, participated in its design and coordination and revised the manuscript for important intellectual content. All authors read and approved the final manuscript.
Acknowledgements
None.
Supported by the DZHK (Deutsches Zentrum fur Herz-Kreislauf-Forschung—German Centre for Cardiovascular Research).
Competing interests
T.B. performs reagent evaluation studies for Roche diagnostics. All other authors declare no potential competing interests with respect to the research, authorship, and/or publication of this article.
Availability of data and materials
All data generated or analyzed during this study are included in this published article and its Additional files.
Consent for publication
Not applicable.
Ethical conduct of research
Funding
This research received no study-specific grant from any funding agency in the public, commercial, or not-for-profit sectors.
Publisher's Note
Springer Nature remains neutral with regard to jurisdictional claims in published maps and institutional affiliations.
Open Access
This article is distributed under the terms of the Creative Commons Attribution 4.0 International License (
http://​creativecommons.​org/​licenses/​by/​4.​0/​
), which permits unrestricted use, distribution, and reproduction in any medium, provided you give appropriate credit to the original author(s) and the source, provide a link to the Creative Commons license, and indicate if changes were made. The Creative Commons Public Domain Dedication waiver (
http://​creativecommons.​org/​publicdomain/​zero/​1.​0/​
) applies to the data made available in this article, unless otherwise stated.