01.12.2018 | Research article | Ausgabe 1/2018 Open Access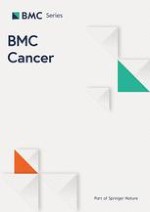 HPV-16 E7 expression up-regulates phospholipase D activity and promotes rapamycin resistance in a pRB-dependent manner
Zeitschrift:
Autoren:

Tatiana Rabachini, Enrique Boccardo, Rubiana Andrade, Katia Regina Perez, Suely Nonogaki, Iolanda Midea Cuccovia, Luisa Lina Villa
Wichtige Hinweise
Electronic supplementary material
Abstract
Background
Human Papillomavirus (HPV) infection is the main risk factor for the development and progression of cervical cancer. HPV-16 E6 and E7 expression is essential for induction and maintenance of the transformed phenotype. These oncoproteins interfere with the function of several intracellular proteins, including those controlling the PI3K/AKT/mTOR pathway in which Phospolipase D (PLD) and Phosphatidic acid (PA) play a critical role.
Methods
PLD activity was measured in primary human keratinocytes transduced with retroviruses expressing HPV-16 E6, E7 or E7 mutants. The cytostatic effect of rapamycin, a well-known mTOR inhibitor with potential clinical applications, was evaluated in monolayer and organotypic cultures.
Results
HPV-16 E7 expression in primary human keratinocytes leads to an increase in PLD expression and activity. Moreover, this activation is dependent on the ability of HPV-16 E7 to induce retinoblastoma protein (pRb) degradation. We also show that cells expressing HPV-16 E7 or silenced for pRb acquire resistance to the antiproliferative effect of rapamycin.
Conclusion
This is the first indication that HPV oncoproteins can affect PLD activity. Since PA can interfere with the ability of rapamycin to bind mTOR, the use of combined strategies to target mTOR and PLD activity might be considered to treat HPV-related malignancies.