01.12.2019 | Research | Ausgabe 1/2019 Open Access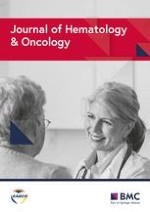 Identifying and targeting cancer stem cells in leiomyosarcoma: prognostic impact and role to overcome secondary resistance to PI3K/mTOR inhibition
Zeitschrift:
Autoren:

Benjamin Fourneaux, Aurélien Bourdon, Bérengère Dadone, Carlo Lucchesi, Scott R. Daigle, Elodie Richard, Audrey Laroche-Clary, François Le Loarer, Antoine Italiano
Wichtige Hinweise
Electronic supplementary material
Abbreviations
CGH
Comparative genomic hybridization
EZH2
Enhancer of zeste homolog 2
FACS
Fluorescence activated cell sorting
mTOR
Mammalian target of rapamycin
NCAM1
Neural cell adhesion molecule 1
PI3K
Phosphoinositide 3-kinase
PRC2
Polycomb repressive complex 2
PTEN
Phosphatase and tensin homolog
SOX2
Sex-determining region Y-box 2
Background
Leiomyosarcomas (LMSs) are one of the most frequent histological subtypes of soft tissue sarcomas (15–20%). The prognosis for LMSs is poor, with up to 40% of patients experiencing metastatic relapse despite optimal locoregional treatment.
LMSs belong to the class of sarcomas with complex genomic alterations characterized by non-recurrent structural and copy number alterations [
1
]. In 40–50% of LMS cases, cytogenetic studies have shown a loss of chromosome 10q encompassing
PTEN
(phosphatase and tensin homolog), a tumor suppressor gene and a negative regulator of phosphoinositide 3-kinase (PI3K) [
2
,
3
]. Conditional knockout of
PTEN
from the smooth muscles of mice predisposes them to the development of LMSs in various organs [
4
]. Strikingly, a recent study conducted by The Cancer Genome Atlas (TCGA) showed a correlation of PTEN alteration with a very high signaling of the PI3K/mTOR pathway in LMS characterized by amplifications or overexpressions of different genes regulating the pathway [
5
]. Our group and others have reported that dual PI3K and mTOR inhibition is associated with strong anti-tumor activity in LMS, which was significantly greater than that of either mTOR inhibition or PI3K inhibition alone [
6
,
7
].
While several dual PI3K/mTOR inhibitors are under development, this class of drugs suffers from the same major limitation associated with other targeted therapies and traditional chemotherapy drugs in a metastatic disease setting; that is, the duration of any observed clinical benefit is limited, owing to the relatively rapid acquisition of drug resistance. Therefore, identifying specific molecular mechanisms of resistance is crucial to define new strategies to overcome or prevent the development of resistance to PI3K/mTOR inhibitors in the clinical setting.
Cancer stem cells (CSCs) have been widely investigated in a range of hematopoietic and epithelial tumors. There are several lines of evidence indicating that CSCs represent a crucial mechanism of resistance to anti-cancer drugs [
8
]. However, CSCs have been poorly studied in sarcomas. We report here the first study identifying CSCs in LMS, assessing their prognostic impact on the outcome and their role in resistance to therapy, and describe for the first time how an epigenetic intervention may reverse their phenotype and improve response to therapy.
Methods
Cell culture
Leiomyosarcoma cell lines were obtained and established as previously described [
6
]. To generate BEZ235-resistant cell lines, parental cells were cultured with increasing concentrations of BEZ235 starting with a concentration of 0.1 nM. Fresh drug was added every 72 h. Resistant cells were maintained as polyclonal populations under constant 50 nM BEZ235 selection. Microarray-based comparative genomic hybridization (aCGH) analysis of both the parental and resistant cells confirmed that the cells were derived from the same origin. For details including drugs used, growth and apoptosis assays, and western blotting, see the Methods section in Additional file
1
.
Clinical samples
Tissue microarray (TMA) was used to study the immunohistochemistry (IHC) expression of ALDH1 and p-S6 in two distinct cohorts of LMS (cohort A
n
 = 145; cohort B
n
 = 89) treated at the Institut Bergonié (Bordeaux, France) (Additional file
1
: Table S1). The staining intensity was scored as follows: 1 (weak), 2 (moderate), or 3 (strong). The proportion of positive cells was also evaluated. Scores for both parameters (staining intensity and proportion of positive cells) were multiplied to generate an immunohistochemistry score, e.g., if the reactivity score was 3 (strong) and the proportion of positive cells was 3 (26–50%), the final immunohistochemistry score is given by 3 × 3 = 9.
Three patients treated with an investigational PI3Kα inhibitor (BYL719) had available tumor material collected before treatment onset and at the occurrence of disease progression.
Sequencing
The RNAseq of LMS cell lines and patient samples was performed by GATC Biotech (Konstanz, Germany) using standard Illumina (Illumina Inc., San Diego, CA, USA) protocols using the HISeq2500 sequencing engine. For detailed analysis methods, see the Additional file
1
.
Heatmap
Unsupervised clustering was realized using hclust function [
9
]. Pearson's correlation was used as similarity criteria, then the average linkage agglomerative method was used to define observed clusters. To construct a heatmap based on normalized gene expression means, the "heatmap" R function develop by Andy Liaw was used.
Aldefluor assay
The Aldefluor Kit (Stem Cell Technologies, Durham, NC, USA) was used to detect stem cells with high ALDH1 enzyme activity according to the manufacturer's instructions. Based on this activity, a sphere-forming assay was assessed. For details, see the Methods section in Additional file
1
.
Animal studies
For in vivo experiments, LMS cells (5 × 10
6
cells/100 μL) were injected subcutaneously into the right flank of Ragγ2C−/− mice (
n
 = 8). Three weeks after drug administration, mice were euthanized and tumors were excised. For details, see the Methods section in Additional file
1
.
Study approval
The study was approved by the Institutional Review Board of the Institut Bergonié (Bordeaux, France), and the methods were carried out in accordance with the approved guidelines and with written informed consent from all patients. All animal experiments under project license APAFIS 8414 were performed with the approval of the Institutional Animal Use and Care Committee
.
Results
Discussion
We have demonstrated here that high ALDH1 activity is a very strong marker of LMS CSCs and that expression of ALDH1 is an independent prognostic factor in patients with LMS. Given the importance of the PI3K/mTOR pathway in the pathogenesis of LMS, we sought to identify mechanisms of resistance to targeted PI3K/mTOR inhibition in LMS models and the potential role of CSC. To this end, we used our recently characterized LMS cell lines [
6
], xenograft models, and patient tumor samples. Although each model contains inherent limitations, we have gained appreciable insight into the potential underlying mechanisms of resistance that could be anticipated in response to targeted inhibition of the PI3K/mTOR axis in this disease segment. The models that we used acquired resistance in vitro after 48 weeks of increasing drug pressure. Importantly, we were able to confirm our in vitro resistance models in vivo
,
and the resistance phenotype observed was specific to dual PI3K/mTOR inhibition due to lack of cross-resistance with other commonly used LMS drugs such as doxorubicin or gemcitabine.
In our model, secondary resistance was associated with the expansion of a subpopulation of cells with stem-like characteristics, including enhanced ALDH1 activity. Importantly, we were able to demonstrate the stem-cell-like nature of this subpopulation and its involvement in resistance by several methods: (1) genomic profiling of parental and resistant tumors using RNAseq paired with gene set-enrichment analysis which to identify the upregulation of several stem cell genes, (2) isolation of ALDH1high cell subpopulations by using the fluorescent reagent (ALDEFLUOR®, Stem Cell Technologies, Durham, USA), (3) evaluation of the toxicity of dual PI3K/mTOR inhibition on ALDH1low and ALDH1high cells, and (4) assessment of the ability of the ALDH1high subpopulation to form spherical colonies when grown under non-adherent conditions, to self-renew and to form a new tumor after xenograft in vivo.
Several studies have shown that epigenetic modifications, including those induced by polycomb group (PcG) proteins, play a crucial role in CSC maintenance. Indeed, epigenetic modification by PcG proteins is critical for maintaining stem-cell-like characteristics in adult stem cells and in embryonic stem cells [
19
]. As a key protein in the PcG family, EZH2 is the catalytic subunit of the multi-protein histone methyltransferase complex known as PRC2. The core catalytic complex is composed of four different proteins: EZH2, EED, SUZ12, and RBAP48. PRC2 catalyzes the mono-, di-, and trimethylation of H3K27. The trimethylated form of H3K27Me3 is associated with the repression of genes important for differentiation. SWI/SNF is another multi-protein complex involved in chromatin remodeling. It antagonizes PRC2 activity in regulating self-renewal and differentiation of cells [
20
]. In stem or progenitor cells, EZH2 activity is high and the expression of PRC2 target genes is therefore repressed. When EZH2 activity is downregulated, PRC2 target gene expression is increased through augmented SWI/SNF activity, and cells can differentiate and become quiescent. As an illustration of the importance of this complex in soft tissue sarcomas, we have recently shown that the first-in-class, first-in-human highly specific inhibitor tazemetostat (an EZH2 inhibitor) is associated with an excellent safety profile and promising anti-tumor activity in SMARCB1-deleted sarcomas [
21
]. Here, we have shown that EZH2 inhibition induced is able to eliminate LMS stem-like cells and to restore the anti-tumor effect of dual PI3K/mTOR inhibition in vitro and in vivo.
Importantly, we confirmed the clinical relevance of our findings by analyzing tumor samples from three patients who showed secondary resistance after treatment with a PI3Kα inhibitor. We found a significant increase in the level of H3K27Me3, the substrate of EZH2, in the samples obtained at resistance in comparison with pretreatment samples as well as a significant upregulation of several stem cell genes. This may represent a promising application of EZH2 inhibition to prevent tumor relapse as this may be caused by the drug-resistant and self-renewable sarcoma stem cells [
22
].
Altogether, our results provide insights into the role of CSCs on the prognosis of LMS and their sensitivity to PI3K/mTOR inhibition and consolidate the path toward novel treatment options combining inhibitors of oncogenic signaling pathways and epigenetic modulators.
Conclusion
Altogether, our results provide insights into the role of CSCs on the prognosis of LMS and their sensitivity to PI3K/mTOR inhibition and consolidate the path toward novel treatment options combining inhibitors of oncogenic signaling pathways and epigenetic modulators.
Acknowledgements
Not applicable
Funding
INCA (SIRIC BRIO)
Availability of data and materials
Data sharing not applicable to this article as no datasets were generated or analyzed during the current study.
Ethics approval and consent to participate
This study has been approved by the Ethics Committee for animal studies of the University of Bordeaux.
Consent for publication
Not applicable
Competing interests
The authors declare that they have no competing interests.
Publisher's Note
Springer Nature remains neutral with regard to jurisdictional claims in published maps and institutional affiliations.
Open Access
This article is distributed under the terms of the Creative Commons Attribution 4.0 International License (
http://​creativecommons.​org/​licenses/​by/​4.​0/​
), which permits unrestricted use, distribution, and reproduction in any medium, provided you give appropriate credit to the original author(s) and the source, provide a link to the Creative Commons license, and indicate if changes were made. The Creative Commons Public Domain Dedication waiver (
http://​creativecommons.​org/​publicdomain/​zero/​1.​0/​
) applies to the data made available in this article, unless otherwise stated.